Bonham Carter: Doubts over Miss Havisham role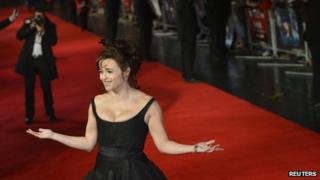 Helena Bonham Carter has admitted she initially had doubts about taking on the role of Miss Havisham in the new film version of Great Expectations.
"My first reaction was 'Am I that old?'" the actress said at a gala screening of the film on Sunday night.
The event, in a drizzly Leicester Square, marked the close of the BFI London Film Festival.
Organisers said the 12-day festival had seen record attendances.
Great Expectations, which is released in UK cinemas on 30 November, also stars Ralph Fiennes as convict Magwitch, Robbie Coltrane as Mr Jaggers, and Jeremy Irvine as Pip.
Directed by Four Weddings And A Funeral's Mike Newell, it was adapted from the classic Dickens novel by David Nicholls, the author of hit novel One Day.
Bonham Carter said that despite her reservations about being too young to play bitter spinster Miss Havisham, Newell had persuaded her she was ideal.
"He said if you go back to the the book and work out the mathematics she is only 56. I said 'yeah but I'm 45', and he said it spans from age 27 to 56 - and I thought what an original idea.
"Then I found that Gillian Anderson was doing it [in a BBC TV version] and I thought 'not such an original idea!'"
Bonham Carter said Miss Havisham was "definitely up my street".
"In a way I'd already played her because I'd done the [Tim Burton animation] Corpse Bride. I only played her as a puppet, but there were a lot of similarities."
She said Miss Havisham's cobweb-covered wedding dress was "one of my favourite costumes of all time".
Other cast members on the red carpet included Robbie Coltrane, Ewen Bremner (Wemmick), and David Walliams (Uncle Pumblechook).
Holliday Grainger, who plays Estella, told the BBC: "It's great to be here tonight amongst people who are so excited about the film industry."
Clare Stewart, the new director of the BFI London Film Festival, said: "It's exciting to be able to showcase new talent like Holliday Grainger and Jeremy Irvine.
"The whole film is a celebration of Dickens in a year when we've been celebrating his bicentenary, so it feels like a fitting close to that as well."
She said the festival has seen a 12% increase in attendance - its highest ever audience - with 149,000 people going to screenings across London.
This year's festival, the 56th, was four days shorter than in 2011, and showcased some 228 features from around the world.
The best film award, announced on Saturday night, went to Jacques Audiard's drama Rust And Bone starring Oscar-winning actress Marion Cotillard.
Bonham Carter, and her partner film director Tim Burton, were also presented with the BFI's highest honour, the BFI Fellowship.
The festival launched last week with a screening of Burton's 3D animated feature Frankenweenie.
Other gala screenings during the festival include Dustin Hoffman's directorial debut, Quartet, which stars Maggie Smith in the story of a group of aging opera stars; Ben Affleck's Iran hostage thriller Argo; and Notting Hill director Roger Michell's Hyde Park on Hudson, a comedy-drama starring Bill Murray as Franklin D Roosevelt.
Among the 14 world premieres was Crossfire Hurricane, a documentary about the Rolling Stones that coincides with the band's 50th anniversary.