Rev to be remade for US television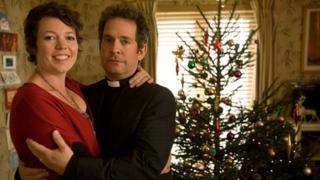 Award-winning comedy Rev is to be remade in the US, with Desperate Housewives producer Bob Daily on board to write the American version.
The half-hour comedy series, which follows an inner-city vicar and his eclectic congregation, won the best sitcom Bafta in 2011.
The British version, starring Tom Hollander and Olivia Colman, recently won fans on the US streaming site Hulu.
It will return to BBC2 for a third series in 2014.
Hollander, who plays Rev Adam Smallbone, and who co-created the series, will consult on the US version with fellow creator James Wood.
The US set-up will centre on an Episcopal priest who leaves a small rural parish in Wisconsin to take over a failing inner-city church in a deprived Chicago neighbourhood, reports US industry website Deadline.
As with the British version, the congregation will include a homeless man and a crack addict.
For Daily, it marks a return to the half-hour sitcom, having spent five years on the award-winning US series Frasier before moving to Desperate Housewives.
Kenton Allen and Matthew Justice, of Britain's Big Talk Productions - which produces Rev in the UK - confirmed they will executive produce the US version, but stressed that the project was still in development and no script was yet available.
Rev won best comedy at the South Bank Awards and picked up four prizes at the Broadcasting Press Guild Awards in March, including best comedy and entertainment show and best writing.
Hollander recently completed filming About Time, a new time-travel comedy from Love Actually director Richard Curtis. Colman is due to appear on the big screen early next year in Hyde Park on Hudson, playing the Queen Mother.