Joaquin Phoenix labels film awards season 'stupid'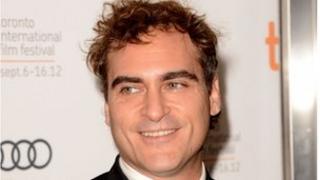 Joaquin Phoenix has said he wants no part in the movie industry awards season, calling the awards "stupid" and "subjective".
Phoenix, 37, told Interview Magazine: "I don't want to be a part of it. I don't believe in it."
The actor has been tipped for awards success The Master, in which he plays a war veteran.
He was nominated for an Oscar for his role as music legend Johnny Cash in Walk The Line in 2005.
Phoenix said he was dreading the upcoming Hollywood awards season which culminates with the Oscars in February 2013.
"It's a carrot, but it's the worst-tasting carrot I've ever tasted in my whole life. I don't want this carrot," he said.
"Stupidest thing"
"It's totally subjective. Pitting people against each other....It's the stupidest thing in the whole world."
Phoenix described the period when Walk The Line was up for multiple awards seven years ago as "one of the most uncomfortable periods of my life."
"I never want to have that experience again," he revealed in the interview.
"I don't know how to explain it - and it's not like I'm in this place where I think I'm just above it - but I just don't ever want to get comfortable with that part of things."
The Master, which also stars Philip Seymour Hoffman, is Phoenix's first feature film since I'm Still Here, Casey Affleck's spoof 2010 documentary which chronicled Phoenix's supposed retirement from acting to launch a career as a rapper.
Phoenix called that experience "unbelievably liberating" and said it was hard subsequently to find projects that interested and excited him.
"I mean, everything that they teach you when you're a kid about acting is completely...wrong. They tell you to memorise your lines, follow your light, and hit your marks. Those are the three things that you shouldn't do.
"You should not learn your lines, you should not hit your mark, and you should never follow your light. Find your light - that's my opinion," he said.