Girls Aloud reveal reunion plans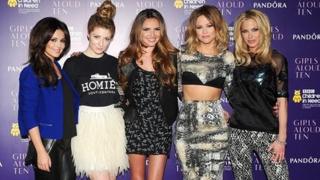 Pop group Girls Aloud have announced plans for their 10th anniversary reunion at a London press conference.
The five-piece will release a greatest hits album, Ten, on 26 November, which will be followed by a 12-date arena tour in 2013.
Band member Cheryl Cole said: "We're really excited. It feels like nothing has changed."
The news comes 10 years to the day since the bandmates first appeared on ITV talent show Popstars: The Rivals.
Cole, Kimberley Walsh, Nadine Coyle, Nicola Roberts and Sarah Harding were selected to form a girl group, then pitched against a "rival" boyband, One True Voice, in a race to number one.
Girls Aloud took the top spot with Sound Of The Underground and went on to score 20 consecutive top 10 hits between 2002 and 2009. One True Voice split up after just two singles.
The greatest hits album will feature four new songs, including this year's Children In Need song, Something New. Fans will also be able to choose the tracklisting of a deluxe edition.
Roberts said: "It's worked out really nicely that it's our 10th anniversary year. It was meant to be."
"We've all been out there on our own for the last few years and we've all thrown ourselves in at the deep end on different things, so for most of us it feels so comfortable to be back together," added Walsh.
"It's like a comfort blanket."
'Challenges'
With five top 10 albums, a Brit award for best single, and a Guinness World Record for most successful reality show band, Girls Aloud went out on a high.
They played their final gig at Wembley Stadium on 18 September, 2009, where they had been hand-picked to support Coldplay on their Viva La Vida tour.
During their three-year hiatus, band members Cole, Roberts and Coyle all released solo albums, with varying degrees of success, while Harding and Walsh took on acting roles.
Cole and Walsh also climbed Mount Kilimanjaro, Africa's tallest mountain, to raise money for Comic Relief.
"It's important and good we were challenged individually," said Cole.
"We had started morphing into one personality by the end".
The band's return was first hinted at last week, when a 10-day countdown clock appeared on their official website.
It was thought the band's comeback single, Something New, would be revealed when the clock reached zero on Friday, but it was hastily unveiled on Tuesday hours after it leaked online.
The three-minute dance track feels like a high-speed dash through Girls Aloud's greatest hits, incorporating goofy rapped verses, a soaring chorus and the cheerleader chant "we're the leaders of the pack".
Released on 18 November, the song was written by the band's longtime collaborators Xenomania. Coyle said recording sessions were held in secret in "April or May" this year.
The band will first perform it on 16 November, as part of the BBC's Children in Need telethon.
Fans who pre-order the band's new album, Ten, this weekend will also be given the chance to buy concert tickets before they go on sale to the public.
The 12-date tour will open in Cole's hometown of Newcastle upon Tyne with two gigs on 21 and 22 February.
The singer said the five-piece "hadn't made any plans further than the tour".
Promotional duties before then will have to be scheduled around Kimberley Walsh's appearances on Strictly Come Dancing.
Bookmakers have ranked the singer third-favourite to win, after Olympic gymnast Louis Smith and actress Denise Van Outen.