Author fury at blackface casting at German theatre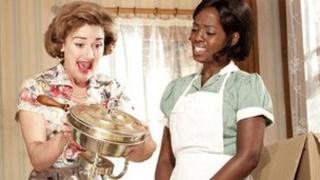 The author of the award-winning play Clybourne Park has refused permission to a Berlin theatre company to perform the play after learning that a lead character would appear blacked up.
Managers at the Deutsches Theatre said a female African-American character in the play was being performed by a white actress and producers would "experiment with make-up".
In a letter to the Dramatists Guild, US playwright Bruce Norris said he was taking a "zero tolerance position" on what he termed an "asinine tradition".
"Normally I don't meddle in the cultural politics of other countries," wrote Norris "but when my work and the work of my colleagues — other playwrights — is misrepresented, I do. A zero-tolerance position is the only position to take."
He urged fellow playwrights "to boycott productions of your own work by German theatres that continue this asinine tradition".
In January this year, German director Thomas Schendel came under fire after allowing a white actor to paint his face black and take on the role of an elderly African-American in the Schlosspark Theatre's production of I'm Not Rappaport.
The theatre group vehemently denied claims of racism, saying they could not find "an elderly black actor" who could fulfil the role. Schendel also claimed that "blackface is part of a theatre tradition" in Germany.
In a long letter to the Dramatists Guild, Norris condemned the ongoing use of blacked up actors in German language productions.
"After much evasion, justification and rationalising of their reasons," he said, producers at the Deutsches Theatre "finally informed me that the colour of the actress's skin would ultimately be irrelevant, since they intended to 'experiment with make-up.' At this point, I retracted the rights to the production."
Inspired by Lorraine Hansberry's classic A Raisin in the Sun, Clybourne Park - a satire about race and class - won a Tony and an Olivier earlier this year, and the Pulitzer Prize for drama last year.
The play debuted off-Broadway in February 2010, before making its UK premiere at London's Royal Court later that year. A sell-out run saw it transfer to the West End for a four-month run in 2011.
The action unfolds in Chicago in 1959, and then revisits the same location in 2009. Cast members play different characters in each half of the play.
It "nails the thorny subject of race relations with a bilious zest that takes one's breath away", wrote the Guardian's theatre critic Michael Billington, in an early review.