Mike Harding 'pushed' from Radio 2 folk show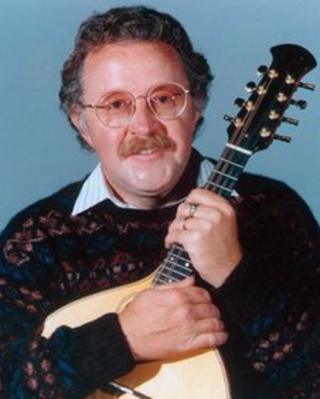 Broadcaster Mike Harding, who is being replaced as the host of Radio 2's folk show, has told fans he is "not leaving the show of my own volition".
The station announced on Tuesday that Mark Radcliffe would take over show.
But writing on Facebook, Harding said the BBC press release "makes it look as though I chose to go. I did not choose to go. [I] was told I was going."
Radcliffe paid tribute to Harding's show, and said it was "daunting to be following in his footsteps".
"He is a friend and someone I respect enormously and I really want to pay tribute to the sterling job he's done on the Folk Show for so long," he added.
Harding is known as the "Rochdale Cowboy" after his 1975 hit single.
He has presented Radio 2's folk show for 15 years, with other broadcasting credits including Mike Harding And Friends, Yer Roots Are Showing and several series of programmes on walking for Radio 4.
Notably, he has hosted Radio 2's annual folk awards since their inception in 2000, presenting the likes of Eliza Carthy, Kate Rusby and James Taylor with major prizes.
The station said Mark Radcliffe, who also presents a daily show on 6 Music, would bring a "fresh perspective" to the folk slot, and allow more live broadcasts.
"Mike has done a fantastic job of supporting the genre," said a spokesperson. "This change will give us increased flexibility to support and reflect the wide variety of folk music available.
"Mark is a very experienced and accomplished live broadcaster so it will enable us to broadcast the programme live when required and to incorporate folk music more seamlessly into our mainstream programmes. Mark will also bring a fresh perspective on the folk music scene, incorporating a love of the traditional and contemporary folk output."
Harding, who currently pre-records his programme, said he would have broadcast live if he had been asked.
He added on Twitter: "They want to make it more 'live'. Dint no I were dead. [sic]"
Fans and musicians reacted angrily to news of his departure. "It appears the BBC controllers believe they know better than the listeners," wrote Dave Green on Facebook. "Clearly they don't."
Folk singer Emily Portman said she was "disappointed", adding she had "lost count of the people who have come up at gigs saying they first heard me on his show".
While Radio 2 listener Gareth George branded the decision "ridiculous". He wrote on Twitter: "Mike Harding IS folk music to me - introduced me to artists I would have never otherwise have heard."
In a statement, Radio 2 controller Bob Shennan said: "I'd like to thank Mike Harding, who has spent 15 years at the top of his game, delighting fans with his expertise and rooting out the very best folk music.
"On his watch, folk has enjoyed a huge surge in popularity and Mike has been key in supporting the genre and introducing Radio 2 listeners to a broad range of new artists. We very much hope to work with him again in the future."
Radio 2's folk show is produced for the BBC by independent production company Smooth Operations, which also produces Mark Radcliffe's other BBC radio ventures.
Harding's last show will be on 26 December, 2012.