Joe Wright to direct Chiwetel Ejiofor at Young Vic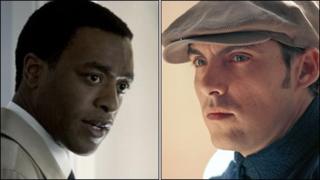 London-born film-maker Joe Wright is to direct Chiwetel Ejiofor in A Season In The Congo at the Young Vic next year.
The play tells the story of DR Congo's first independence leader, Patrice Lumumba, who was assassinated in 1960.
Best known for his Oscar-nominated adaptations of Atonement and Pride and Prejudice, Wright appears to be taking a busman's holiday in the theatre.
He is also due to direct Arthur Wing Pinero's Trelawny of the Wells at the Donmar Warehouse in Covent Garden.
But the director is no stranger to the stage, having been brought up at the Angel Theatre in north London, where his parents ran the puppet theatre.
He went on to study fine art at Central St Martins, and set his most recent film - an audacious reworking of Tolstoy's Anna Karenina - inside a Russian theatre.
The two plays mark his London stage debut. He told the Guardian he had approached the artistic directors of both the Donmar and the Young Vic directly.
"I've been wanting for some time to work in theatre," he said. "So I decided to make a concerted effort this year as I've made five films in eight years and I just felt I wanted a different kind of rhythm."
Ejiofor, who has appeared in films including Love, Actually and Children Of Men, will play Lumumba in A Season In The Congo, which was written by Martinique poet and politician Aime Cesaire.
It is his first theatre role since winning the best actor prize at the 2008 Laurence Olivier Awards for his interpretation of Othello.
The play, which is receiving its UK premiere, is part of the Young Vic's 2013 season.
Announced on Thursday morning, the season also includes Feast, a celebration of Yoruba culture, featuring music and dance, directed by Rufus Norris; and the return of Ibsen's A Doll's House, which won favourable reviews for its first run over the summer.
That will be followed by more Ibsen - a new version of Public Enemy by David Harrower, directed by Richard Jones; and American Lulu, a radical interpretation of Alban Berg's incomplete, 20th Century opera Lulu, transported to the smoky jazz clubs of America's Deep South in the 1950s.