ITV apologises over celebrity sperm bank guest hoax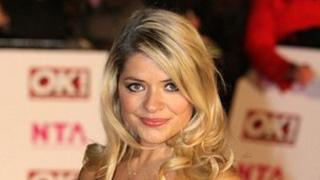 ITV has admitted that This Morning was the victim of a hoax following a story about a new celebrity sperm bank.
CEO Dan Richards appeared on This Morning on Tuesday to discuss FameDaddy, the "first celebrity sperm donor service".
But the broadcaster said it now appears Mr Richards did not run the website but was "an actor working for a TV production company".
ITV has apologised to viewers who were "deliberately misled by this stunt".
FameDaddy's website states its "soon-to-launch service" will offer a list of "celebrity donors from the worlds of sport, entertainment and finance - all leaders in their fields, with a proven track record of success".
Its sample donors includes "a rock star with annual earnings of £40m and an aristocrat in the House of Lords with an income of £5-10m".
"Incredible tale"
"There is no doubt it was an incredible tale," presenter Phillip Schofield told viewers on Wednesday.
Co-host Holly Willoughby said: "There was something not quite right, it was so unbelievable."
ITV launched an investigation following the interview and on Thursday the broadcaster apologised to viewers, saying those behind the incident "clearly went to great lengths to pull the wool over the eyes of the programme and our audience".
"They also managed to convince other media, appearing on radio and in newspapers," the statement said.
ITV said it makes "every effort to ensure the legitimacy" of the stories featured on This Morning, "as well as the authenticity of all guests".
"We carry out a range of checks, which in this case included verifying that this company was legally registered, and we did the interview in good faith," it added.
A link to the featured item has since been removed from ITV's website.
The FameDaddy website, which was set up in 2012, also offers interested women the opportunity to take the 'Fame Daddy Donor Quiz' in order to "find your dream donor".