Haifa al Mansour becomes first female Saudi director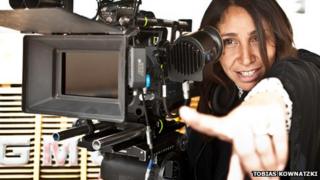 Women in Saudi Arabia cannot drive, vote or work with men but one woman has become the country's first film-maker to direct a film in her homeland.
Haifa al Mansour has made a film - titled Wadjda - that has received critical acclaim around the world but cannot actually be shown in Saudi Arabia because there are no cinemas and few films are given a public showing.
It is a ground-breaking film that was shot in the Kingdom itself and has an all-Saudi cast which, surprisingly, includes two lead women.
It is due to be released next year.
When al Mansour was growing up in a small town in Saudi Arabia, she dreamed of making films but thought it would never happen in a country where women are restricted in the jobs they can choose.
Luckily for her, she says, her father believed that despite her gender she could achieve anything she wanted.
But a lot of pressure was put on her to stop her pursuing her career.
"You know Saudi Arabia is very tribal," she says.
"People from our extended family would write letters to him telling him 'how dare you let your daughter do that'. There is social pressure on a lot of families to control their daughters and he never listened to that."
'Really proud'
After al Mansour released three short films as well as an award-winning documentary, the thing that she had still not done - nor for that matter had anyone else in Saudi Arabia - was direct a feature length film.
Keif al-Hal?, released in 2006, is regarded as Saudi Arabia's first big budget film and starred a Saudi actress, though it was shot in Dubai by a Palestinian director.
Haifa al Mansour's father passed away a few years ago and never got to see his daughter make her full-length debut, which has already been shown at both the Venice and London film festivals.
"He was really proud," she says.
"He wanted to support me and live my dream and it's hard to find something like this in Saudi."
Wadjda is about a 10-year-old girl living in the Saudi capital Riyadh, who wants a bike in a society that sees bicycles as a threat to women's virtue.
''For me of course [the bike's] a metaphor but also it's common sense, it's a toy. ''
The film had official permits, was partly financed by a Saudi prince and was shot on location in six weeks.
But filming encountered problems not experienced by Hollywood studios.
Women in Saudi Arabia are not allowed to work or mix with men and are not to be seen walking around on the streets so, when filming in conservative districts of the Saudi city of Riyadh, al Mansour had to hide in a van.
''It's challenging especially for the outdoor shots," she says.
"Some of the neighbourhoods are conservative so I had to be in a van and direct the actors through the phone or walkie talkies.''
But al Mansour still says there is a system in Saudi for shooting dramas which creates a "vibrant scene".
She used this very system to get permission and make her dream a reality.
There is no open casting for actors in Saudi Arabia and it is hard to find either women or girls to appear on film because it is regarded negatively by conservatives in the country.
She says she was blessed in finding her 12-year-old lead Waad Mohammed, one week before shooting began.
''She was rocking '80s style headphones and curly hair," al Mansour says.
"She's really smart.''
Positive messages
Another problem for al Mansour, when it came to filming, was that she had to rely on location scouts.
As a woman, she cannot drive or walk around freely and learned quickly that she did not know the streets and different districts of Saudi Arabia particularly well. This, she thinks, was a limiting factor as a film director.
"Mobility for Saudi women is different," she says.
The film, despite positive reviews elsewhere, has had a mixed reaction in Saudi Arabia but has received lots of positive messages on Twitter from Saudi women.
The challenge is getting more people to see the film as there are no public cinemas. However, many Saudis watch films via satellite TV and DVDs.
Al Mansour believes in working within the system to change it rather than fighting against it by not participating.
''Try to do it the way the Saudis do it," she says.
"[Don't] be a rebel just for the sake of it."