Sedaka to perform piano concerto as part of London gig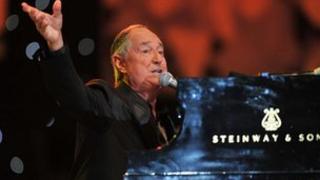 Neil Sedaka will perform his first piano concerto with the London Philharmonic orchestra at the Royal Albert Hall on Wednesday.
Sedaka, 73, said Manhattan Intermezzo was for people "who are not used to going to a serious concert".
Sedaka, whose hits include Is This The Way To Amarillo, has enjoyed success as a pop artist across five decades.
But speaking to BBC Radio 3, he said he may have had a classical career, had it not been for the Cold War.
Sedaka revealed that, as a student, he had been invited to compete in the prestigious International Tchaikovsky Competition in Moscow, only to be disqualified because of his Western background.
"They were impressed enough that they had me on hold," he told the In Tune programme.
"But a couple of weeks before I was supposed to leave for Moscow, I got a letter from the committee saying I was disqualified because my name was linked to American capitalistic rock and roll."
Previous winners of the competition have included Van Cliburn and Boris Berezovsky.
'No regrets'
Sedaka, who studied at the Juliliard School in New York, said he has always loved classical music but has "no regrets" about the path his musical career took, including writing for some of the biggest artists in the business.
"It's wonderful for the soul to be able to play classical music," he said.
"But to travel around, playing your own lyrics and music is a very rewarding feeling and I chose that, and I have no regrets."
He described his piano concerto, Manhattan Intermezzo, as "melodic".
"As hard as I try to be abstract or dissonant I can't. I'm a romanticist, absolutely," he said.
Writing on his official website, Sedaka said that he wanted Manhattan Intermezzo to sound "clearly American, in style and feel, but still keeping it distinctively Neil Sedaka".
"Writing pop songs is one thing. But, composing a serious piece gave me much more creative freedom.
"This is the result of all the music I've studied and played. I am very proud of this work," he added.
You can listen to the full interview with Neil Sedaka on the In Tune website.