Taken 2 holds on to UK box office top spot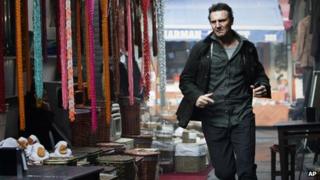 Liam Neeson's thriller Taken 2 has retained the top spot in the UK and Ireland box office chart for a second week.
The sequel earned £3.7m, holding off competition from Adam Sandler's animation Hotel Transylvania, which took £1.7m in its opening week.
In third place, Ethan Hawke's horror film, Sinister made £1.3m while Looper was in fourth, earning £1.2m.
Total earnings for the top 15 films was £9.8m, 31% down from last weekend.
Harry Potter star Emma Watson's The Perks of Being a Wallflower completed the top five taking in £398,000 from 335 locations.
There were four new releases in this week's top 15 chart with Ruby Sparks the second highest entry at number six. The romantic comedy about a novelist struggling with writer's block who finds romance, earned £299,000 across 308 locations.
It was closely followed by On the Road which opened in seventh place with takings of £218,000 from 100 locations.
Based on the novel by Jack Kerouac, it stars Garrett Hedlund as the free-spirited Dean Moriarty and Kristen Stewart as his wife, Marylou.
3D comedy animation ParaNorman was in eighth place after five weeks in cinemas, while Will Ferrell's comedy, The Campaign was at number nine, earning £170,000 from 266 locations.
Rounding off the top ten was the French film, Untouchable which earned £144,000 in its fourth week in the UK chart.