JRR Tolkien letter reveals poor sales of The Hobbit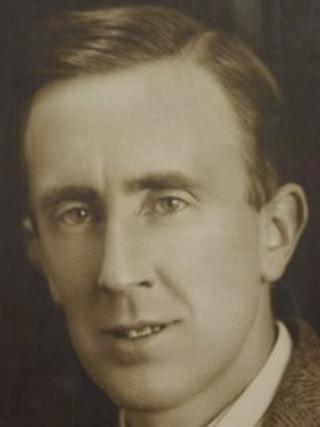 A letter from JRR Tolkien to Swallows and Amazons writer Arthur Ransome has revealed the author's concerns about sales of The Hobbit.
Tolkien said he would send a revised edition to Ransome "if there is a reprint", adding "sales are not very great".
The letter forms part of a collection of Tolkien's writing held at the University of Leeds - where he taught.
Despite his concerns, The Hobbit went on to sell 100 million copies.
The letter also revealed Ransome had suggested editing parts of The Hobbit and Tolkien was happy to oblige.
He consented to making some minor changes regarding the use of the word "man" and agreed the wizard Gandalf's use of the word "boys" as an insult "was rather silly and not quite up to form".
The letter began: "Dear Mr Ransome, I am sure Mr Baggins would agree in words such as he used to Thorin - to have been fancied by you, that is more than any hobbit could have expected.
Dr Alaric Hall from the University of Leeds School of English said: "What this letter shows is that Tolkien is thinking of himself as a translator of a lost text.
"He is slipping into a kind of fantasy as if he's writing about a real world, as he loves doing. It's part of his humour, and I guess he thought that Arthur Ransome was going to enjoy it and get his joke."
Film premiere
On 1 October, a blue plaque was unveiled in Tolkien's honour at his former home in West Park, Leeds, in collaboration with Leeds Civic Trust and the Tolkien Society.
The premiere of the first instalment of Peter Jackson's film adaptation of The Hobbit takes place in New Zealand in November.
The first part of the planned trilogy, titled An Unexpected Journey, stars British actors Martin Freeman and Sir Ian McKellen
The film is due for worldwide release on 14 December, with the second film The Hobbit: The Desolation of Smaug due in December 2013.
The final instalment The Hobbit: There and Back Again is expected to be released in summer 2014.