Tina Fey to co-host next year's Golden Globe ceremony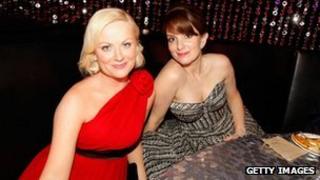 Tina Fey of 30 Rock fame is to reunite with fellow US comedy star Amy Poehler to host the 70th annual Golden Globes ceremony in 2013.
The "magnetic duo" replace British comedian Ricky Gervais who has been the show's acerbic host since 2010.
Fey and Poehler previously starred together in the film Mean Girls and on Saturday Night Live.
The awards, voted for by Hollywood's foreign press, will air on January 13, less than two weeks before the Oscars.
The Hollywood Foreign Press Association and NBC, who organise the event were "thrilled" to have Fey and Poehler on board, with Paul Telegedy, of NBC describing their involvement as a "major coup".
"Tina and Amy have a proven chemistry and comedic timing from their many years together on SNL to their successful co-starring roles in Baby Mama," he said.
Poehler's show, Parks and Recreation is currently in its fifth season on NBC, while Fey's 30 Rock is airing its seventh and final season on the network.
The comedic duo previously co-hosted Weekend Update, a satirical news sketch on SNL, from 2004 to 2006.
British comedian Gervais, who spent three years ruffling feathers in Hollywood by making barbs about some of its stars, announced earlier this year that he would not be returning as host.
Viewing figures dipped slightly this year from 17 million in 2011 to 16.8 million in 2012, with many observers noting that Gervais' jokes seemed less caustic than in previous years.
The Globes are usually handed out about a week before the Academy Award nominations are announced, but that won't be the case next year.
The Academy of Motion Picture Arts and Sciences has moved up the Oscar nominations announcement to 10 Jan - three days before the Globes are set to air.
The 85th annual Academy Awards, which will be hosted by Family Guy creator Seth MacFarlane, is to be held on on 24 February.