Opera boss defends Getty production after donation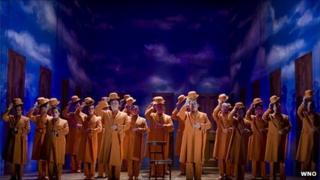 The chief executive of the Welsh National Opera (WNO) has defended the decision to put on a Gordon Getty opera after a donation from the Getty family.
David Pountney, also the WNO's artistic director, told the Today programme it was purely an "artistic" decision.
But critic Norman Lebrecht told the BBC he was "surprised that David Pountney has conceived an eleventh-hour enthusiasm for Getty's work".
The Gettys have donated $2m (£1.2m) to the opera company.
The money will be used to present a new series of contemporary operas - including Getty's Usher House - to be performed in the UK for the first time.
Speaking to the BBC on Monday, Lebrecht said: "Nothing that I have heard of Getty's rises above the very lower levels of derivative and mediocre. The fact that his opera comes accompanied by a large gift make me wonder whether artistic judgements have not been skewed."
'Really special'
Wrting in his blog on Sunday, Lebrecht described Getty as "talentless".
But Pountney told Radio 4 that Getty's Usher House was "beautiful, refined, sophisticated and atmospheric".
Regarding Lebrecht's criticism, he said " every time anybody performs a new piece of music, there are always 100 people to say that it's bad and 100 people to say that it's good, and that's just a matter of opinion".
Pountney denied telling the Getty family that he would put on Gordon Getty's opera after they offered a donation.
"The whole thing started the other way round, conductor Larry Foster rang me up and said 'come and hear this work, it's a really special work'."
The series of five contemporary operas will begin next summer with the UK premiere of Wagner Dream by Jonathan Harvey.
Other works planned include Robert Orledge's completed version of Claude Debussy's unfinished one-act opera, The Fall of the House of Usher.
It will be staged alongside Getty's Usher House, both inspired by Edgar Allan Poe's classic novel The Fall of the House of Usher.
Both operas will be directed by Pountney and will be performed in the summer of 2014.
Other planned operas in the series include a new version of Peter Pan by Cornish composer Richard Ayres in 2015 and Korean composer Unsuk Chin's Alice in Wonderland in 2017.
When news of the Getty donation was announced on Sunday, Pountney said the company was "very grateful" to members of the Getty family for their gift.
"At a time when the arts face continuing cuts to public funding, this kind of private philanthropy is a vital form of income without which this series would not be possible," he said.
"This series gives us an extraordinary opportunity to re-engage with contemporary opera writing and to transform our perceptions of new music."