Jerry Lee Lewis bandmate BB Cunningham Jr shot dead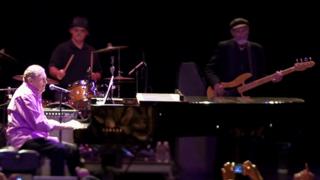 Musician BB Cunningham Jr, a long-time member of Jerry Lee Lewis's band, has been shot dead in Memphis, Tennessee.
Police said the 70-year-old had been working as a security guard when he went to investigate a gunshot at a neighbouring building.
When officers arrived, both Cunningham Jr and an unidentified 16-year-old boy were found dead.
The musician had been part of Lewis's band since 1997 and released a solo album, titled Hangin' In, in 2003.
Born Blake Baker Cunningham Jr, he gained national recognition in 1965 as a member of Ronnie and the Daytonas touring band.
A year later the band changed their name to the Hombres and had a hit with song Let It All Hang Out in 1967.
After the Hombres' career slowed, Cunningham Jr went to work behind the scenes at the famed Sounds of Memphis Studios as an audio engineer.
In 1971, he moved to Los Angeles where he served as chief engineer at Independent Recorders, working with the likes of Billy Joel, Elton John, and Lou Rawls.
Cunningham returned to Memphis a few years later and launched his own studio.
As well as performing with rock and roll star Lewis, the musician also plays with Swedish group The Cadillac Band, featuring 1960s pop stars.
According to his website, he toured with them in Sweden throughout July and last performed in August at the International Rockabilly Hall of Fame Festival.