Taken 2 beats Argo at US box office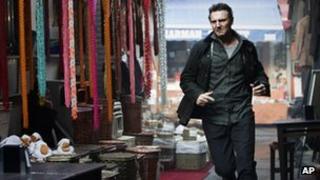 Liam Neeson film Taken 2 has narrowly beaten Ben Affleck thriller Argo to stay top of the North American box office.
Taken 2 took $22.5m (£14.03m) according to early estimates, with Argo making $20.1m (£12.53m).
Ethan Hawke's Sinister, a supernatural horror about a crime writer, debuted at number three with $18.3m (£11.4m).
Taken 2 has not been a big hit with the critics, while Argo is already creating Oscar buzz.
Some critics described Taken 2 as just a replay of the original.
Neeson plays an ex-CIA agent who travels across Europe to save his estranged daughter, who has been kidnapped on a trip to Paris.
"It kind of proves that reviews do not matter," said Paul Dergarabedian, an analyst for box office tracker Hollywood.com.
"Audiences just continue to eat this up. They just love Liam Neeson in this role."
Affleck directs and stars in Argo, based on a real-life story about a CIA operative who hatches a plan to rescue six Americans hiding in Tehran after the 1979 US embassy takeover.
Revenues from the film increased by 47% between Friday - its opening day - and Saturday.
"This is a really good indication of how quickly word of mouth can spread," said Dan Fellman, head of distribution at Warner Bros.
"The critical acclaim in this case is going to translate into commercial success."
Family comedy Hotel Transylvania and Kevin James comedy Here Comes the Boom rounded out the top five.