James Bond: Skyfall wins praise from critics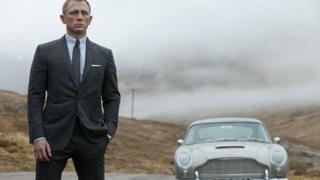 The latest James Bond film Skyfall has been praised by critics, with some hailing it "the best Bond ever".
Starring Daniel Craig in his third outing as 007, the 23rd film in the franchise has been directed by Oscar winner Sam Mendes.
The Independent's Geoffrey McNab said: "If not a full blown triumph, this is certainly one of the best Bonds in recent memory."
The Times's Kate Muir called it "a great British bulldog of a movie".
"From the moment the orchestral sound of Adele belts out, sending a nostalgic shiver down the audience's collective spine, we know this will be a triumphant return to classic Bond," she wrote.
McNab added in his review: "Mendes has gone back to basics: chases, stunts, fights.
"At the same time, he has subtly re-invented the franchise, throwing in far greater depth of characterization than we're accustomed to in a series of films that are often proudly superficial."
The Daily Mail's Baz Bamigboye gave the film five out of five, calling the film "a fantastic combination of 007 meets Bourne meets Spooks meets Home Alone".
Robbie Collin praised director Mendes in The Telegraph: "[He] is unafraid to let the quieter dramatic moments breathe...and ace cinematographer Roger Deakins makes the wildly ambitious action sequences the most beautiful in Bond's 50-year career."
Skyfall sees Dame Judi Dench reprise her role as MI6 director M, while Ralph Fiennes, Ben Whishaw and Naomie Harris join the franchise as Bond's co-workers.
Critics also praised Javier Bardem's performance as villain Silva, with McNab saying "he combines pathos, grotesquerie and a Hannibal Lecter-like viciousness".
Caroline Jowett added in The Express: "He is not a villain in pursuit of world domination like Ernst Blofeld, and he is slightly upstaged by his own hair but he never fails to surprise.
"That he can make us laugh at the same time only makes him more menacing."
As one of the few US critics at the preview on Friday, The Hollywood Reporter's Todd McCarthy called the film a "serious and spectacular show".
"Dramatically gripping while still brandishing a droll undercurrent of humour, this beautifully made film will certainly be embraced as one of the best Bonds by loyal fans worldwide and leaves you wanting the next one to turn up sooner than four years from now."
However The Guardian's Xan Brooks was not as impressed as other critics.
Giving it three stars out of a five, he praised the "whiz-bang first half" but said the film "falls prey to a common failing of many 50th birthday bashes: it allows sentimentality to cloud its judgment and loosen its tongue."
The film opens in the UK on 26 October.