Jake Bugg: 'I have to pinch myself'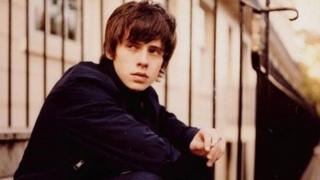 He's not even 20 years old. He barely needs to shave. But Jake Bugg has already joined two of his biggest idols on stage.
Both The Stone Roses and Noel Gallagher asked him to play with them at low-key London gigs this summer. That's blossomed into a full support slot on Gallagher's US and European tour.
Not bad for a singer who still lives at home with his mum on a council estate in Nottingham.
"I'd never been out of England before this year," marvels Bugg, speaking on the phone from Lille, France.
"Now, I've been to Germany five times and France three times. I'm going to America and Belgium and all these places. It's really broadened my mind."
His favourite gig was in Sweden where, he says, "everyone was quiet" during his set.
"I was only the support act for Michael Kiwanuka, but everyone was silent and it kind of baffled me, to be honest."
Bugg's music is the sort of thing to shut up the noisiest concert-goer: Scruffy, sprightly skiffle-rock, indebted to Buddy Holly and Bob Dylan.
In the words of one fan: He's the old person's young singer.
Homer homage
Born Jake Edwin Kennedy in 1994, he first picked up a guitar aged 12.
"My uncle came around with a three-quarter size steel string guitar and he taught me the basic chords."
He plucked along aimlessly until, one evening, he stumbled across an episode of The Simpsons which featured Don McLean's hit single, Vincent.
Bugg has said in previous interviews it was "the first song I liked". He devoured McLean's back catalogue, then delved into the artists that inspired him - from Buddy Holly to The Weavers.
More importantly, he started working the songs out on his guitar, getting a helping hand from YouTube videos.
"You learn how a song's structured, and what chords go where, and all these formulas," he explains.
"Then, when I was 14, I thought, 'all these songs that I enjoy learning - these people have become very successful by writing them, so maybe I should give it a go myself.'"
The short, unfussy songs on his debut album recall the straightforward rock of a simpler era - storming through 14 tracks in just 39 minutes.
"If a song is longer than three and a half minutes, it'll need something to keep you entertained," he says.
"People don't want to hear 20 minutes of freeform jamming. Maybe a guitar solo one day, but never a bongo solo."
His lyrics are straight to the point, too.
"I drink to remember, I smoke to forget," he sings on Two Fingers, one of several songs about his provincial upbringing.
The backdrop is Nottingham's Clifton Estate, once the biggest council housing estate in Europe, and Bugg doesn't flinch from painting a bleak picture of the area.
Seen It All recounts a stabbing at a party. Trouble Town's title speaks for itself.
But the singer-songwriter is evasive on the question of whether the song is autobiographical.
It begins "Hear the sirens down the street / Kids get light on their feet".
"It's true," Bugg says. "You see it all the time." But he can't, or won't confirm, he was one of the teens habitually hiding from the police.
"I used to watch, obviously, like be a friend or whatever," he says. "Dunno. Good question."
It's not that he has anything to hide. Bugg is just endearingly awkward, burdened with a youthful inability to articulate his thoughts (outside his music, at least).
Rising star
Perhaps life hasn't quite prepared the singer for the sudden, dazzling glare of the spotlight.
Last year, he was playing the intimate BBC Introducing tent at Glastonbury. All of a sudden, he's in arenas with the star of Oasis, being courted by the press.
"To me, it feels like it's been moving fast for a little while now," he says.
"Noel's obviously an idol of mine, so meeting him - you do have to pinch yourself a bit, but you just come to realise they're normal people at the end of the day.
"Like, he came back stage to meet us and said, 'y'alright, nice to meet you all, where did you get them trainers from?'"
As Bugg follows Gallagher across the Atlantic on tour, he insists he won't be getting ideas above his station.
"Well, he's got a nice big bus and we're going round in a cheap van. We're not trying to make ourselves look bigger than we are."
But with four-star album reviews ("too good to be true," was the Daily Mail's verdict) and a sold-out tour of his own in November, the singer's star is definitely rising.
"In the last few weeks, my Twitter followers have really gone up," says Bugg. "I've got like 30,000. I was at 666 earlier this year!"
If his gigs are anything to go by, those new fans cross the generations.
"In the front you've got young girls and as you get further back it gets older," he says. "It's nice to see... a nice mix out there."
And is he aware that he's been christened rock's newest heartthrob?
"Is that right, is it?" he laughs.
"Oh, that's cool. I can live with that."
Jake Bugg's self-titled album is out now on Mercury.