Caitlin Moran joins Blue Peter book award panel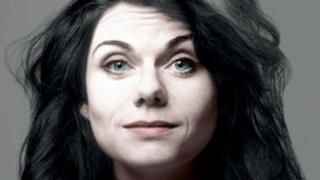 Journalist turned author Caitlin Moran has been named as one of the judges of the 2013 Blue Peter Book Awards.
Children's author Cressida Cowell, Blue Peter editor Tim Levell and librarian Jake Hope will also sit on the panel.
Moran, author of the best-selling How To Be A Woman, said it was "a total honour" to be invited to adjudicate.
"Plus, they said I could have a Blue Peter badge," the Times columnist added in a statement. "There's a childhood dream fulfilled, right there."
As "someone raised on books", the mother of two said there was "no more amazing world to share with your kids than being able to climb into a book together and talk about it forever".
Submitted books are intended for children between six and 12 and are judged in two categories - "best story" and "best book with facts".
Both categories will have a shortlist of three, selected by the adult panel of judges, to be unveiled on 10 January. The overall winner, chosen by Blue Peter viewers, will be announced on 7 March.
JK Rowling, Michael Morpurgo and Dame Jacqueline Wilson are among previous winners of the awards, organised in conjunction with the Book Trust, which have been running since 2000.