Harvey Weinstein attacks 'free internet'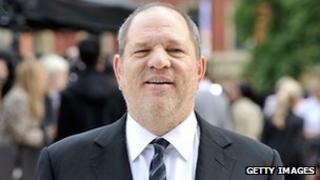 US film producer Harvey Weinstein has criticised media giants Apple and Google for making content available under the guise of "free internet".
"It's a nonsensical idea," he told an audience at the London Film Festival, likening the notion to helping oneself to "free shirts" in a clothing store.
Video-sharing sites like YouTube, he continued, were doing a "massive disservice" to the film industry.
He went on to praise France for passing the world's "toughest" anti-piracy law.
In 2009, France adopted a so-called "three-strikes law" that means persistent pirates can be thrown offline.
The legislation, Weinstein claimed, had "disincentivised" people to "steal" content and had resulted in a "robust" local industry.
The Miramax co-founder and Oscar-winning producer made his comments at a keynote address at the BFI Southbank on Thursday.
During his speech he identified the consolidation of media companies as another threat to independent-minded film-making, claiming it meant that "everyone plays it safe".
"These companies make movies to make money," he said. "We too want to be profitable, but [also] to do something worthwhile and innovative."
Yet his remarks have been questioned by a leading UK digital rights campaigner, who claimed the film industry was at least partly to blame for the losses it is facing at the hands of digital pirates.
"The industry hasn't made their own content easily available for low enough prices to move the market into legal services," said Jim Killock of the Open Rights Group.
"They've created the conditions for widespread copyright infringement and it's in their hands to change that.
"We've seen plenty of copyright markets function and flourish on the internet, books being a great example," Mr Killock went on to tell the BBC News website.
He also questioned the efficacy of Hadopi, the agency set up in France to police copyright infringement, suggesting it had become "an expensive white elephant".
Weinstein's support for such films as Pulp Fiction, Shakespeare in Love and The King's Speech has made him a major Hollywood player.
In 2004 he received a CBE in recognition of his contributions to the British film industry.