Oscar Wilde play by Sir David Hare returns to West End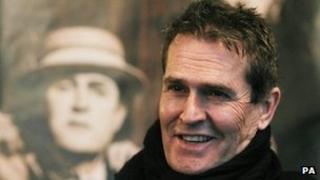 Rupert Everett is to play famed playwright Oscar Wilde in the West End next year in an acclaimed production of Sir David Hare's play The Judas Kiss.
The West End transfer follows a sold-out run at London's Hampstead Theatre and tour dates in the UK and Ireland.
The play, about Wilde's scandalous gay relationship with Lord Alfred Douglas, was first staged in London in 1998 with Liam Neeson in the lead role.
The revival runs at the Duke of York's Theatre from 9 January to 6 April.
Freddie Fox plays Lord Alfred, aka Bosie, in Neil Armfield's production.
The Judas Kiss focuses on two critical moments in Wilde's last years, before and after his arrest and subsequent imprisonment for gross indecency.
The Times praised Everett's Wilde as "tragic, heroic, human: a flawed Christ figure, fascinating and deeply affecting," whilst The Guardian wrote it was "the performance of his career".
Earlier this year, it was announced that Everett is to make his directing debut with a film about Wilde, starring himself as the playwright and Colin Firth as his friend Reginald Turner.
His other credits include roles in film versions of the Oscar Wilde plays An Ideal Husband and The Importance of Being Earnest.
Sir David Hare - whose other plays include Plenty, Pravda and Skylight - is currently chairing a jury at the London Film Festival that will decide the winner of this year's best film award.