Willy Wonka cast in Sam Mendes musical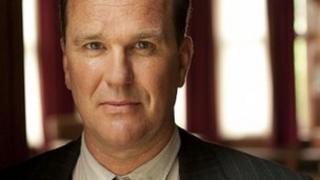 Olivier Award winner Douglas Hodge is to play Willy Wonka in Sam Mendes' production of Charlie and the Chocolate Factory, it has been announced.
The 52-year-old is currently on Broadway starring in a revival of Cyrano de Bergerac.
Earlier this year he starred in the BBC drama Bert & Dickie, about the 1948 London Olympic rowers Bert Bushnell and Dickie Burnell.
The new musical will open at London's Theatre Royal next May.
Songs for the show will be written by Mark Shaiman and Scott Wittman, the pair behind the musical Hairspray and US TV series Smash.
The script will be written by Scottish playwright David Greig while Peter Darling - a recent Olivier winner for his work on Matilda the Musical - will provide the choreography.
Hodge will follow in the footsteps of Gene Wilder and Johnny Depp who have both played the eccentric chocolate factory owner in Hollywood versions of Roald Dahl's book.
The actor told The Daily Telegraph his take on Willy Wonka would be "a cross between Charlie Chaplin and Dali".
"Part of the thrill for me is that it's brand new," he said.
"No one's ever heard the songs before. Shows like Guys and Dolls are brilliant, but you're doing stuff that's already been done. So to have something that's a clean slate is great."
Nominated for an Olivier Award four times, Hodge won in 2009 for his role in La Cage Aux Follies.
A year later he won the Tony, Drama Desk and Outer Critics Circle Awards for the same role.
On the big screen, the actor has starred alongside Reese Witherspoon in Vanity Fair and Russell Crowe in Robin Hood.
Next year he will also be seen as Paul Burrell in the Diana, Princess of Wales biopic starring Naomi Watts.