James Corden brings crime caper The Wrong Mans to BBC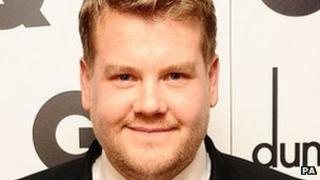 James Corden is to star in a new six-part comedy thriller on BBC Two.
The Wrong Mans, co-written by Corden and Matthew Baynton, will follow two hapless office workers inadvertently caught up in a criminal conspiracy.
"James and I dreamt up The Wrong Mans during a break on the set of Gavin And Stacey four years ago," said Baynton, who will appear opposite Corden.
The Horrible Histories star, who played Deano in Gavin & Stacey, said he was excited to be "making it a reality".
Baynton and Corden will play Sam and Phil respectively, a pair of office workers who answer a ringing phone at the site of a car crash and find themselves thrust into a deadly underworld.
"We are trying to do a comedy with explosions, a lot of running about, murder, extortion, friendship and love. I cannot wait," said executive producer Mark Freeland. "But I'm glad I'm not doing the running about bit."
Filming will begin in January 2013. Corden recently performed on Broadway, where he won critical acclaim for his Tony award-winning performance in One Man, Two Guvnors.
Later this year, he is due to play Britain's Got Talent winner Paul Potts in the biopic One Chance.