Alex Karras, Blazing Saddles' Mongo, dies at 77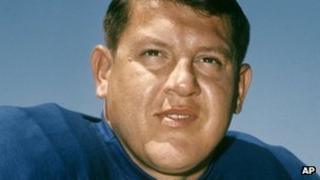 Alex Karras, the former American footballer-turned-actor, has died at his home in Los Angeles aged 77.
He remains best known for his role as the illiterate outlaw Mongo in Mel Brooks' comedy Blazing Saddles, in which he punched a horse unconscious.
He also starred in the 80s sitcom Webster, opposite his wife Susan Clark.
He had been suffering from kidney failure, dementia, heart disease and cancer in recent years, his family said.
He was among more than 3,500 former players who are suing the National Football League over the long-term damage caused by concussions and repeated hits to the head.
"He suffered from dementia for the last decade of his life," his lawyer Craig Mitnick said. "He had lost his zest for life. He had suffered through dementia, he had suffered through cancer, his body just eventually gave way.
"He was such a strong, charismatic man. The dementia took that energy away."
Karras began his football career with the Detroit Lions in 1958, where he was known for his physical versatility and defensive talent, as well as his disregard for authority. His teammates knew him as "The Godfather" for his wisecracking personality and his love of big cigars.
He made his screen debut towards the end of his sporting career, in 1968, playing himself in the American football drama Paper Lion, alongside Alan Alda.
It spawned a number of television appearances, including a memorable role in The Odd Couple series. Film credits included a sheriff in Porkys and a gay bodyguard in Victor/Victoria.
In 1975, he met his second wife, Susan Clark, on the set of the TV biopic Babe, playing her screen husband. They had one daughter, Katherine.
Karras went on to write his autobiography Even Big Guys Cry, and two other books, Alex Karras and Tuesday Night Football.
In addition to Susan Clark, his wife of 37 years, he is survived by Katherine and his four children from his first marriage to the late Joan Powell.