Sir Elton John loses libel case against The Times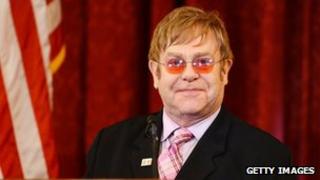 Sir Elton John was not libelled by The Times in a series of articles about tax avoidance, the High Court has ruled.
The pop star had complained about two articles, on "The secrets of tax avoiders", published in June this year.
He said they implied he had been advised to engage in "immoral" schemes.
But Mr Justice Tugendhat ruled that the pieces were not capable of being interpreted in that way, or of containing any other meaning defamatory to the Candle In The Wind singer.
On 21 June, the article in question carried the headline, "Screen Play: How movie millions are moved offshore". It said that Patrick McKenna, of Ingenious Media, was Sir Elton's former accountant and one of two main providers of film investment schemes in the UK.
In fact, Mr McKenna never worked for Sir Elton and Times Newspapers Ltd published a correction the following day.
It also issued a clarification that Ingenious Media had not been involved in moving money offshore to avoid tax.
Sir Elton's lawyers accepted that the newspaper had not expressly stated the star was involved in tax avoidance - but argued that, by linking the star to Mr McKenna, it had implied he was.
Manuel Barca, representing The Times, said the references to Sir Elton were "fleeting" and made clear in each case that the association was in the past.
In his ruling, the judge said it was understandable that Sir Elton should take exception to the inaccurate statement.
However, he rejected as "lacking any possible basis" the claim that the words could bear the meaning that Sir Elton had been, or was suspected of being, engaged in tax avoidance.
Shortly after the judgment, Rupert Murdoch - whose company News Corp owns The Times - vented his anger at the court case on Twitter.
"British libel laws limit freedom of expression everywhere," he wrote. "Hope [David] Cameron keeps his promise of major reform, but not holding breath."