Charlie Brown film heads for cinemas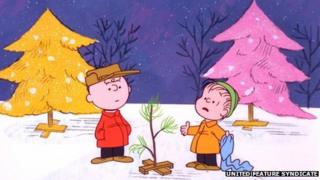 Snoopy, Charlie Brown, Linus and Peppermint Patty are heading back to the big screen to celebrate the 65th anniversary of the Peanuts comic strip.
Film studio 20th Century Fox Animation announced on Tuesday it had acquired the rights to Charles M Schulz's series, with the film due in 2015.
Schulz's son Craig and grandson Bryan have worked on the script, which will be brought to life by Ice Age director Steve Martino.
The strip ran for 50 years from 1950.
In its prime, it reached readers in 75 countries, 2,600 papers and 21 languages every day.
An estimated 355 million people read the stories of the hapless Charlie Brown, with his tree-loving kite, and inability to kick an American football.
The other characters included Lucy van Pelt, a cynical eight-year-old with a kerbside psychiatric clinic, and her brother Linus, a philosophical soul permanently attached to his security blanket.
Snoopy, Charlie Brown's pet beagle, had a rich fantasy life, appearing as a fighter pilot, a published author and the sunglasses-wearing Joe Cool - undoubtedly a prototype for The Fonz in Happy Days.
The comic strip spawned numerous TV shows, including the Emmy-nominated A Charlie Brown Christmas.
Four cinematic animations were also released, the first being 1969's A Boy Named Charlie Brown, which took $6m (£3.75m) at the US box office.
Adjusted for inflation, that would be $37.6m (£23.5m) in 2012.
The new adaptation will mark the 65th anniversary of the comic strip and the 50th anniversary of A Charlie Brown Christmas.
"We have been working on this project for years," said Craig Schulz, president of Charles M Schulz Creative Associates, in a statement.
"We finally felt the time was right and the technology is where we need it to be to create this film."
Vanessa Morrison, president of 20th Century Fox animation added: "This all started with our love and respect for the work of Charles Schulz.
"We are thrilled to partner with the Schulz family... and honoured to bring the Peanuts characters to the big screen."
Award-winner
Charles M Schulz created more than 18,250 comic strips between 1950 and 2000. At one point, he was earning an estimated $30m (£18.7m) per year from syndication deals and merchandising.
But the cartoonist continued to hand-draw each panel, even after developing a hand tremor in later life.
He won the Reuben Award, one of comic art's highest honours, in 1955 and 1964.
In 1978, he was named International Cartoonist of the Year and on Peanuts' 40th birthday, France named Schulz a Commander of Arts and Letters, one of its highest arts awards.
By coincidence, his final Sunday cartoon was published just hours after his death, from colon cancer, on 3 January, 2000.
It showed Snoopy in thought at his typewriter, remembering some of the strip's most memorable scenes.
Schulz wrote underneath: "Dear Friends, I have been fortunate to draw Charlie Brown and his friends for almost fifty years. It has been the fulfilment of my childhood ambition.
Unfortunately, I am no longer able to maintain the schedule demanded by a daily comic strip. My family does not wish Peanuts to be continued by anyone else, therefore I am announcing my retirement."