British shows up for seven International Emmys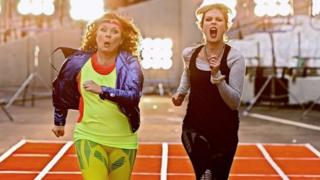 The return of Absolutely Fabulous is in the running for an International Emmy, one of seven nominations for British TV shows this year.
The BBC1 sitcom, starring Jennifer Saunders and Joanna Lumley as Eddie and Patsy, recently marked its 20th anniversary with three new episodes.
Sky 1's Spy, starring Darren Boyd as a single father recruited as a trainee spy, is also up for best comedy.
Terry Pratchett: Choosing to Die is nominated for best documentary.
The BBC Two programme looked at how best-selling author Pratchett, who was diagnosed with Alzheimer's disease in 2008, might choose to end his life.
It was honoured at both the Bafta TV Awards and the Royal Television Society Awards earlier this year.
British star Jason Isaacs is up for best actor for his role as private detective Jackson Brodie in BBC One crime drama Case Histories, based on Kate Atkinson's novels.
Newcomer Joanna Vanderham has a best actress nomination for her debut TV role in Sky 1's The Runaway, playing a young girl growing up on the streets of London's Soho in the 1960s and 70s.
BBC Two's Queen: Days of Our Lives and Charlie Brooker's Channel 4 drama Black Mirror will also compete at the ceremony in New York on 19 November.
Several special awards will also be handed out to help mark the International Emmys' 40th anniversary.
Among the recipients is Glee creator Ryan Murphy, who will receive the honorary 2012 International Emmy Founders Award.
Meanwhile CBeebies show Octonauts and a Newsround special - My Autism and Me - are among four British nominations for the first International Emmy Kids Awards.
BBC One drama Lost Christmas and Cartoon Network animation The Amazing World of Gumball are also in the running, with a new ceremony due to take place in February.