Terra Nova creator to write Fifty Shades screenplay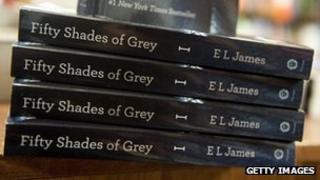 Kelly Marcel, the co-creator of US sci-fi TV series Terra Nova, is to write the film screenplay for best-selling erotic novel Fifty Shades of Grey.
One of the film's producers, Michael De Luca, praised her "flawless structural technique and passionate commitment to emotion, humour and depth of character".
She said she was "beyond thrilled".
But American Psycho author Bret Easton Ellis, who had proclaimed he wanted to be involved, lambasted the decision.
Ms Marcel recently wrote the script for Saving Mr Banks, about Disney's 20-year pursuit of the film rights to Mary Poppins.
Universal Pictures and Focus Features announced she had been hired to write Fifty Shades, having acquired the rights to the trilogy in March. The book's author EL James also tweeted that she was "thrilled".
The film will also be produced by Dana Brunetti and the author herself.
Brunetti said: "We were all taken with the depth and passion of Kelly's engagement with the characters and world EL James has created and we knew she was the right person to augment our Fifty Shades family."
But Bret Easton Ellis tweeted: "Kelly Marcel?!? Kelly Marcel?!? Kelly Marcel is writing the script for 'Fifty Shades of Grey'?!? This is the movie they want to make? Argh."
He added: "Kelly Marcel: the creator of (gulp) Terra Nova and a Mary Poppins bio-pic has been blessed by EL James and no one can stop her. Dear God."
However, Dana Brunetti responded by criticising the Ellis's forthcoming film The Canyons, starring Lyndsay Lohan.
"Really, Bret? The day you release that 'trailer'? School film? You're losing it..."
Easton had made no secret of his desire to write the film's screenplay, tweeting in August that it was a "very major disappointment" not to make the shortlist of writers.
The books have been a global phenomenon and have been translated into 45 languages worldwide, selling more than 32 million copies in e-book and print in the US.
It is also the fastest selling book series and the fastest adult paperback novel to sell one million print copies.
The novels follow the relationship of 27-year-old billionaire Christian Grey and college student Anastasia Steele.
Saving Mr Banks stars Tom Hanks, Emma Thompson and Colin Farrell and is currently in production.
Marcel also wrote the pilot episode for Terra Nova and will produce the TV adaptation of Brando Skyhorse's novel The Madonnas of Echo Park for HBO.