Shameless creator Paul Abbott calls time on Channel 4 series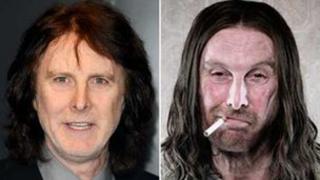 The team behind long-running Channel 4 drama Shameless has announced that the show's 11th series, to be broadcast early next year, will be its last.
"Its 10th anniversary seems a fitting time to shut the book," said creator Paul Abbott, adding that the death of his father had influenced the decision.
The final series, currently filming in Manchester, will comprise 14 episodes.
Based around the anarchic Gallagher family, the show was loosely inspired by Abbott's childhood in Burnley.
Actor David Threlfall has played the lead role of Frank Gallagher since the show's first episode, shot in 2003 and broadcast the following year.
"We've had an absolute ball making this stuff up for a living," said Abbott in a statement. "We've given back in spades and got away with absolute murder."
James McAvoy, Anne-Marie Duff and Maxine Peake are among the now established actors to have made appearances in the critically acclaimed ratings success.
The show went on to spawn a US version, starring William H Macy in the Frank Gallagher role, that will embark upon its third season next year.
"Shameless, ground-breaking when it launched and gob-smacking ever since, has over the years built a loyal following," said Jay Hunt, Channel 4's chief creative officer.
"We are in Paul Abbott's debt for bringing his defiantly dysfunctional band of characters to Channel 4."