Taken 2 scores $50m US opening weekend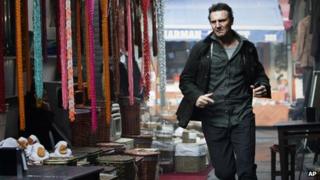 Liam Neeson's thriller sequel Taken 2 has topped the US and Canadian box office, taking $50 million (£31.1m), despite a poor reception from critics.
That is double the opening weekend for the original film, which took $24.7 million (£15.4m) in 2009.
Last week's number one, Adam Sandler animation Hotel Transylvania, was at two with $26.3 million (£16.35m).
Glee-style musical Pitch Perfect was in third with $14.7 million (£9.14m), following a limited release last week.
The movie stars Anna Kendrick as a college student trying to liven up her a cappella singing group.
Sci-fi thriller Looper, starring Bruce Willis and Joseph Gordon-Levitt, fell from second-place to fourth with $12.2 million (£7.59m).
Tim Burton's stop motion monster tale Frankenweenie opened in fifth place, taking $11.5 million (£7.15m), after facing competition from rival spooky animation Hotel Transylvania.
Burton's Disney tale, about a boy who brings his dead dog back to life, is shot in black and white in an homage to classic horror movies.
'Exceeded expectations'
This week marks another improvement to cinema takings in the US and Canada with totals of $138 million (£85.8m), up 45.5% on the same weekend last year.
Taken 2's distributors 20th Century Fox said they were surprised by the film's opening numbers after experiencing a "sluggish market" since the summer.
Chris Aronson from the company said it had "exceeded our expectations", adding: "The come in at $50 million is really remarkable, and a testament to this character that Liam has created."
The sequel sees Neeson as a retired CIA agent who gets kidnapped on holiday in Istanbul.
"Most people go to the movies for a certain dose of escapism," continued Aronson.
"It doesn't have to be high art. It doesn't have to be serious and contemplative. They go to the movies to be entertained, and my gosh, that's what this movie does."
Despite its relatively modest opening, 2009's original went on to take more than $227 million (£141m) around the world, and turned its Irish star into a Hollywood action hero with roles in Clash of the Titans, The A-Team and The Grey.