Billy Bragg to give John Peel Lecture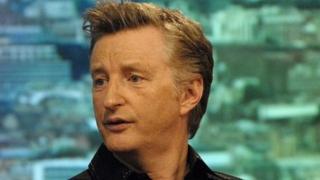 Musician and campaigner Billy Bragg will give BBC 6 Music's second annual John Peel Lecture at this year's Radio Festival next month.
The lecture was launched last year by inaugural speaker, The Who's Pete Townshend.
Bragg will explore how radio's 'pirates' become mainstream and in what ways broadcasters should reflect that.
The event is named after the late Radio 1 DJ John Peel, who Bragg called "a complete hero to the music industry".
"I'm delighted to be asked to speak at the event in his honour," said Bragg.
Peel, who died in 2004, famously promoted new talent using his Peel Sessions, often giving airtime to unsigned artists.
He was among the first to champion acts from Pink Floyd to the White Stripes, to Bragg himself.
"John Peel gave me my first big break in return for a biryani and he was always hugely supportive of my work," revealed Bragg.
Throughout his 30-year career, inspired by punk, Bragg has often used his music and political songs to offer fans a different perspective on issues of the day.
The John Peel Lecture was launched last year and aims "to discuss and create insight into music and music-related media from the past, present or future".
Bob Shennan, controller of Radio 2 and 6 Music, said digital station 6 Music was its "natural home".
"I'm proud that we can continue John's legacy to inspire conversation about music and that Billy - an icon of British music whose outspoken views are sure to spark debate - will take centre stage for this special occasion," added Shennan.
The Radio Festival takes place in Salford Quays between 12-14 November, featuring speakers such as BBC Radio 1's Ben Cooper, Absolute Radio's Frank Skinner and Adrian Chiles.
The Radio Festival's chair Clive Dickens said: "The lecture is a great way to pay tribute to a man who changed the structure of music radio through innovative programmes, which were delivered with humour and an obvious passion and dedication to music."