Wizard of Oz ruby slippers set for UK display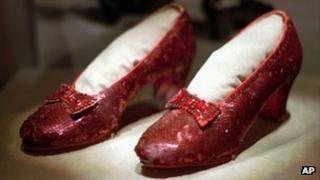 The original ruby slippers worn by Judy Garland in The Wizard of Oz are to go on display at London's Victoria and Albert (V&A) Museum this month.
On loan from the Smithsonian National Museum of American History in Washington DC, it will be the first time the slippers have left the US.
They will be reunited with Dorothy's blue and white gingham dress as part of the V&A's Hollywood Costume exhibit.
The shoes will be on display for four weeks from 20 October.
Curators say it is the first time Dorothy's original dress and shoes have been together since the movie was filmed in 1939.
Only four pairs of the ruby slippers are known to exist.
Created from red satin shoes, the film's costume designer covered them in red sequins sewn onto fine chiffon. They were topped with a large centre bow edged with red glass bugle beads, crystals and three emerald shaped crystals.
"This is a once in a lifetime opportunity to see the ruby slippers outside of America and we are incredibly grateful to the Smithsonian for this rare and generous gift," Martin Roth, director of the V&A, said.
"We are delighted to be able to offer our visitors the chance to see such an iconic American artefact at the V&A, and can't think of a more fitting temporary home for them than Hollywood Costume."
The slippers are currently on view at the Smithsonian's American Stories exhibition.
Purchased at auction in 1970, they were donated to the museum in 1979 and have been on almost continuous display since.
A replica pair of slippers created specially by original makers, the Western Costume Company, will be on display when the originals go back to the US.
The V&A's exhibtion, which will display more than 130 of the most famous costumes in Hollywood cinema, ends in January.