Reporter wins 'cougar' complaint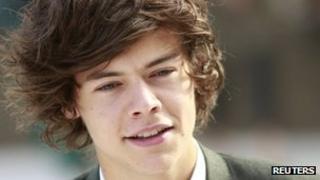 A journalist has won undisclosed damages from The Sun newspaper after an article implied she was involved with One Direction singer Harry Styles.
ITV Granada's entertainment correspondent, Caroline Whitmore, accepted undisclosed damages, an apology and payment of her legal costs from News Group Newspapers.
Her complaint arose from a Sun piece in July entitled: 'Harry and cougar No 3'.
The misleading article saw Mrs Whitmore become the subject of abuse on Twitter.
It followed an interview with boy band One Direction earlier this year during which 30-something reporter Mrs Whitmore was kissed on either cheek by 18-year-old Styles.
'Damaging and distressing'
Mrs Whitmore's lawyer stated that The Sun headline, coupled with allegations that Styles had recently dated two older women in their thirties, gave the false impression that there was a relationship between the journalist and the pop star.
Speaking in London's High Court on Thursday, advocate Julia Varley told Mr Justice Tugendhat that in referring to Mrs Whitmore as a "cougar" and linking her to Mr Styles, some readers might infer she had behaved inappropriately by pursuing a relationship with a younger man.
"Such reading was particularly damaging and distressing to Mrs Whitmore, since she has been with her husband for 17 years and married for the last two," said Ms Varley.
"The article has also been repeated and expanded upon widely by the worldwide media. As a result, Mrs Whitmore has been the subject of abuse on the internet, including on her Twitter page."
Ms Varley added that The Sun had stated its article was intended as light-hearted and no such meaning was intended, but the matter had now been promptly and amicably resolved.
In a statement, Mrs Whitmore said: "I am delighted that this has been resolved and I can now focus on my work at ITV."