Jimmy Savile: Sussex police confirm 2008 assault claim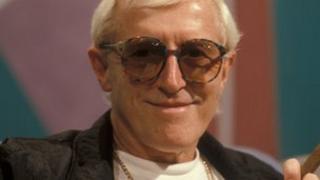 Sussex police have confirmed that a complaint of sexual assault made against Sir Jimmy Savile in 2008 was dropped because the woman involved wouldn't take the matter further.
The attack was alleged to have taken place in Worthing in 1970. But Police said the victim was "unwilling to co-operate in any investigation".
Sir Jimmy, who died last year, has been accused of a string of attacks.
Meanwhile, a plaque outside his flat in Scarborough has been defaced.
It had been installed in September by a community group set up in memory of the entertainer, but has now been marked with graffiti.
Scarborough Borough Council says it is also reviewing security at Woodlands cemetery where the late DJ and presenter is buried.
New assault claims
The assault revealed by Sussex Police on Wednesday follows similar claims, many of which have surfaced following publicity for an ITV documentary due to be aired this week.
The documentary contains several claims of sexual abuse against Sir Jimmy, from women who were in their teens in the 1970s.
Sussex police said in a statement that a 59-year old woman had reported an assault in March 2008, revealing it had taken place on sometime between May 1970 and September 1970.
"Initial enquiries were made but the woman made it clear at the outset that she was unwilling to co-operate in any investigation or to support any prosecution, and it was therefore not possible to pursue the matter."
The statement continued: "We take all such reports seriously, however long ago the period they relate to, but in this case it was not possible to progress any investigation."
'Full investigation'
Among the latest women who have come forward with allegations of sexual abuse is Katrina Rose, who was aged 14 in 1975.
She told the BBC she was invited by Savile to see a studio before stopping at his flat to call a cab, which is where she claims the assault took place.
"I froze. I just didn't know what to do. Did not know what was happening. I was quite a naive 14-year-old," said Ms Rose.
"I would feel physically sick even to hear his name spoken. The worst thing that I will never get out of my head is the taste of his cigar breath."
Ms Rose also said in an interview with BBC News that she chose not to pursue a police investigation at the time because she was told:
"You need to be prepared for the media circus it will cause, you will have the press camped on your doorstep. I decided I couldn't cope with that."
She continued: "And, as understandable as that is, I don't think I'll ever stop beating myself up for not having the courage to continue with that and get it out in the open while he was still alive."
Ms Rose has now called for "a full investigation of who knew, who deliberately covered it up. People had to have known something was not right.
"They might not have realised the extent of it. But they had to have known that this man liked young girls just a bit too much."
BBC 'horrified'
In a statement on Tuesday the BBC said it was "horrified" that some of the alleged assaults were said to have taken place on BBC premises in the 1970s, adding it would contact police and "offer full support" to any investigations.
"We are horrified by allegations that anything of this sort could have happened at the BBC - or have been carried out by anyone working for the BBC," read the statement.
"They are allegations of a serious criminal nature which the police have the proper powers to investigate."
Former teen singer Coleen Nolan claimed in an interview on ITV1's Alan Titchmarsh Show on Wednesday that Savile had suggested she join him at a hotel when she was 14, following a recording of Top of the Pops.
She had been appearing on the music chart show along with her sisters, while Savile was presenting.
She said: "I stood with him while he made the announcement and it was an uncomfortable situation, the way he held me and then he mentioned about going to a hotel. But you didn't talk about those things then."