Sir David Jason to pen autobiography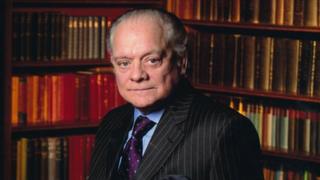 Sir David Jason is to publish his memoirs to mark 50 years in the entertainment industry.
The 72-year-old actor's autobiography will be published by Random House in the autumn of 2014 with an eye on the lucrative Christmas market.
Sir David said the book would allow him to "share the journey" of his life with the British public.
He is best known for roles in TV series such as Only Fools And Horses, A Touch Of Frost and The Darling Buds Of May.
Born in 1940, Jason started his television career in 1964 playing the part of Bert Bradshaw in ITV soap Crossroads.
Three years later he performed alongside future Monty Python members Eric Idle, Terry Jones, and Michael Palin in the television sketch comedy series Do Not Adjust Your Set.
In 1973 he starred opposite Ronnie Barker in the BBC sitcom Open All Hours. He also featured alongside Barker in prison sitcom Porridge.
In 1981 came his popular role Derek "Del-Boy" Trotter in the BBC's Only Fools and Horses, which ran between 1981 and 2003.
He moved to ITV in 1992 to star as Detective Inspector Jack Frost in a role that would continue for 16 years.
The actor was awarded an OBE in 1993 and a knighthood in 2005, both for services to drama.
Sir David said: "Over the past 50 years I have had the fortunate experience of working with some of the finest actors and writers in the world.
"This book will be an opportunity for me to share the journey through my life and career with the people who have been most generous with their support and kindness - the great British public."
Ben Dunn, the publishing director of Random imprint Century, said: "Like so many millions of Brits, I grew up watching and listening, laughing and crying to David's on-screen genius - from Del Boy to Dangermouse to Detective Inspector Jack Frost, his canon of work is unsurpassed and I am truly honoured to be publishing a memoir that I have no doubt will be as golden as everything else he's touched."
The hardback version will come out in the autumn of 2014, with a paperback the following year.