JK Rowling novel tops fiction chart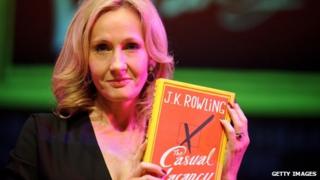 JK Rowling has gone straight to the top of the fiction charts with The Casual Vacancy, the Harry Potter author's first novel for adults.
It sold 124,603 copies in its first three days, 10 times more than its closest rival, 1356 by Bernard Cornwell.
Figures from Nielsen BookScan show it also sold 20 times the next new entry by Jackie Collins, The Power Trip.
The Casual Vacancy is now the 15th best-selling book of the year so far.
Set in a small town in the West Country where a local election divides the apparently cosy community, Rowling's new book has also divided critics.
Their comments do not appear to have put readers off buying the book, which has already become this year's best-selling hardback fiction title, and the fastest selling since 2009's Dan Brown hardback The Lost Symbol, which topped 550,000 in its first week.
However The Casual Vacancy has failed to touch sales of Rowling's seven Harry Potter titles.
When her final instalment, Harry Potter and the Deathly Hallows, was published in 2007 it sold more than 2.6 million copies in its first week in the UK.
That was two fifths of all the books sold in the UK that week.
"By way of comparison, the latest phenomenon in the book trade, Fifty Shades of Grey, sold 664,000 in its highest week of sales so far," said David Walter from Nielsen BookScan, which has been monitoring book sales in the UK since 1998.
He added: "JK Rowling's UK sales to date are of a value in excess of £238m, making her by far the highest selling author in the UK since our records began."