ENO announce 'dress down for opera' initiative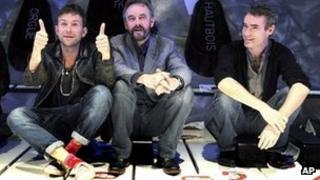 Young people and those who would not normally go to the opera are being encouraged to register interest in a new English National Opera initiative.
Undress for the Opera comprises four informal evenings when audiences will be encouraged to come casually dressed.
An unspecified number of "best seats" will be sold at £25 each, a price that includes an invitation to a post-show party with cast and company members.
According to the ENO, 30% of its audience is currently under 44.
"Our aim is to increase the figure to at least 40%," said ENO artistic director John Berry as he launched the scheme at the London Coliseum on Wednesday.
"We want to change the perception that 'opera is not for me'," he continued. "You don't need ties or tiaras to enjoy opera at ENO."
Berry was joined by Blur singer Damon Albarn and director Rufus Norris, whose acclaimed 'folk opera' Doctor Dee was staged at the Coliseum last year.
"We are carrying into this century ideas that belonged to a previous generation," Albarn said.
"Really it's just a case of clarifying what the state of play is now. It's quite clearly different and the more that word [opera] is spread the easier it will be to translate and bring in new ideas."
The first Undress for the Opera evening will be held on 15 November, when Norris's production of Mozart's Don Giovanni will be performed.
Subsequent informal evenings will be held on 7 February, 18 April and 13 June, each involving different productions in the ENO's new season.
Recent attempts to draw younger audiences to the ENO include works such as Two Boys by composer Nico Muhly, based on a bizarre real-life case of a teenager who posed online as a woman and persuaded an older boy to try to kill him.