David Blaine unveils shocking feat of endurance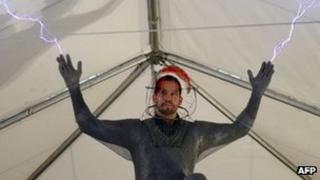 US performance artist David Blaine is to spend three days and three nights amid an artificial lightning storm as part of his latest feat of endurance.
Beginning on Friday, he will stand surrounded by seven Tesla coils - electrical columns that shoot out small bolts of lightning - for 72 hours.
"I had wanted to do this for years," the 39-year-old said at a launch event on Tuesday at New York's Pier 54.
Blaine will wear a chain-mail suit, helmet and headphones throughout.
He will suck water through a tube, urinate through a catheter and will be fasting.
Blaine demonstrated to reporters how the stunt - called Electrified: One Million Volts Always On - will work on Tuesday by shooting arcs of lightning out of his hands.
The body suit - a so-called Faraday suit, named after the English scientist Michael Faraday - and helmet will serve as a barrier between himself and the electric currents.
Stuart Weiss, Blaine's doctor, said one of the stunt's main risks was exposure to the ozone and nitrous oxides that are a by-product of ionised air.
Ionised air, or plasma, is created when air is separated into positive ions and electrons, making it much more conductive.
A ventilation system will ensure the magician has breathable air, while a visor in his helmet will protect his eyes from ultraviolet radiation.
The magician's past endurance stunts include sitting in a Perspex box in London for 44 days and standing on a pillar in New York for 35 hours.