UK audiences go loopy for Looper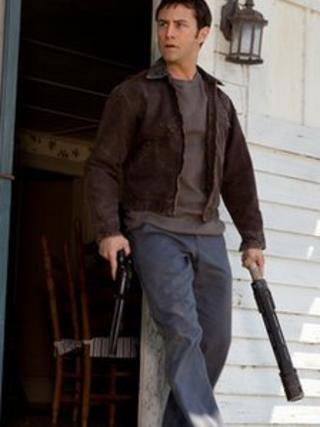 Time-travel action movie Looper was the top draw at cinemas over the weekend, topping the UK and Ireland box office chart with a three-day haul of £2.4m.
The film was the first new release since Colin Farrell's Total Recall remake and comedy The Watch to make more than £2m in its opening weekend.
However both those titles, released in August, required takings from previews to pass the £2m barrier.
Looper sees Bruce Willis and Joseph Gordon-Levitt share the same role.
Directed by Rian Johnson, the science-fiction thriller begins with Willis being sent back in time so that he can be assassinated by his younger self.
Looper's success came at the expense of stop-motion animation ParaNorman, which dropped down to two in its third weekend in UK and Ireland cinemas.
Another 3D release, the latest instalment in the Resident Evil franchise, claimed third place with a lacklustre tally of £792,265.
Starring Milla Jovovich in her fifth outing as gun-toting zombie slayer Alice, Resident Evil: Retribution was not shown to critics ahead of its UK release.
Its takings were roughly matched by The Campaign, a political satire starring Will Ferrell that opened in fifth place after making £772,102 in its debut weekend.
Further down the top 10, French title Untouchable - released in London on 21 September - claimed 10th place after being rolled out nationwide seven days later.
The film, about a rich white quadriplegic and his disadvantaged black carer, took £317,979 between Friday and Sunday after expanding its release to 153 screens.
New films in cinemas this weekend include Taken 2, a sequel to 2008's Taken that sees Liam Neeson reprise his role as a former CIA agent at odds with a gang of Eastern European kidnappers.