Jimmy Savile rape allegation passed to Met Police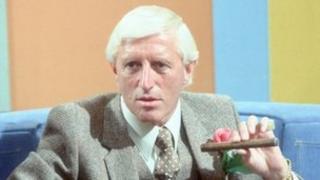 Surrey Police have referred an allegation of rape against the late Sir Jimmy Savile to the Met.
"A woman yesterday (Monday, 1 October) reported a historic allegation of rape," Surrey Police said.
"The alleged offence occurred in London, therefore the matter has been referred to the Metropolitan Police."
Police also said on Tuesday that the Leeds-born DJ and TV presenter was investigated during an inquiry into abuse at a Jersey children's home.
The three-year inquiry into child abuse at Haut de la Garenne heard allegations that Sir Jimmy was involved in an indecent assault in the 1970s.
The States of Jersey Police said there was insufficient evidence for the investigation to proceed.
Sir Jimmy, who died last year aged 84, was never charged with any abuse offences.
Since his death a number of allegations have surfaced, none of which have been proven.
A States of Jersey police spokesman said the allegation was made by a former Haut de la Garenne resident against Sir Jimmy in 2008 and referred to an assault alleged to have occurred in the mid-1970s.
A police spokesman said: "During the course of the States of Jersey Police's historic abuse investigation a complaint of indecent assault said to have occurred during the 1970s at the former children's home Haut de la Garenne was received.
"The allegation was investigated but there was insufficient evidence to proceed."
Alleged victims
A three-year long £7.5m investigation by Jersey police into historic child abuse in the island's care homes began after allegations of abuse at former children's home Haut de la Garenne.
From September 2007 police took 1,776 statements from 192 alleged victims, identifying 151 alleged abusers. Seven people were successfully prosecuted.
An ITV1 documentary - Exposure: The Other Side of Jimmy Savile, to be broadcast on Wednesday - accuses Sir Jimmy of sexual abuse against under-age teenage girls.
It will show several interviews with alleged victims of the DJ and TV presenter.
One complaint was made to Surrey Police in 2007. Following an investigation no further action was taken.
The Metropolitan Police were unavailable for comment.