Sir Jimmy Savile: BBC 'horrified' over rape allegations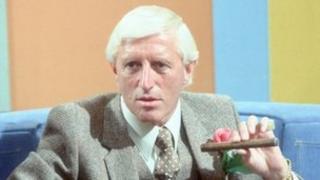 The BBC has said it is "horrified" over claims the DJ and presenter Sir Jimmy Savile sexually abused teenage girls on its premises in the 1970s.
In a statement, the BBC said it had asked its investigations unit to contact police and "offer full support" to any investigations.
The claims are made in a documentary due to be aired on ITV on Wednesday.
Since the programme was publicised, several more women have come forward with allegations of sexual abuse.
Dee Coles told ITV News that she and a friend were "made to do sexual acts" on Savile in a campervan while she was on holiday in Jersey, aged 14.
A second woman, Karin Ward, has also waived her anonymity to describe how she was abused by another TV star in a BBC dressing room as a teenager.
Her interview will be broadcast on ITV News on Wednesday, shortly before the channel screens the Savile documentary.
The BBC statement, issued before Ms Ward's interview came to light, said: "We are horrified by allegations that anything of this sort could have happened at the BBC - or have been carried out by anyone working for the BBC.
"They are allegations of a serious criminal nature which the police have the proper powers to investigate."
It added that police forces in receipt of allegations would be offered help in investigating the claims and full support would be provided "to any lines of inquiry they wish to pursue".
On Tuesday, Surrey Police referred an allegation of rape against Savile to the Metropolitan Police.
The Met issued a statement which confirmed the allegation, believed to date back to the 1970s, was "currently under review by the Met police's Sapphire unit - which investigates rape and sexual offences".
Police also said on Tuesday that the Leeds-born DJ and TV presenter had been investigated during an inquiry into abuse at a Jersey children's home.
The three-year inquiry into child abuse at Haut de la Garenne heard allegations that Sir Jimmy was involved in an indecent assault in the 1970s.
The States of Jersey Police said there was insufficient evidence for the investigation to proceed.
Savile, who died last year aged 84, was never charged with any abuse offences.
'Whiter than white'
Former BBC chairman Lord Michael Grade told Channel 4 News he had "fleetingly" heard rumours about Savile when he was controller of BBC One in the 1980s.
"People would cast aspersions in a general conversation," he said, but "no-one said 'I know someone who has been attacked by an artist.'"
"There were question marks, certainly [but] I never heard anything that gave me cause to think we should investigate or do anything about it.
He also dismissed suggestions of a BBC cover-up as "ludicrous".
"I think there have been quite a few attempts to get behind the allegations - so you can't say anyone ignored it."
Speaking to the BBC, Rodney Collins - a press officer when Savile was a DJ at BBC Radio 1 - said he had been asked in 1973 to check whether newspapers were planning to print allegations of Savile having inappropriate liaisons with underage girls.
He said he discovered the papers had "heard these allegations" but were unwilling to print them "whether... true or not because Jimmy Savile [did] a lot for charity".
"He was perceived as a very popular man," he recalled being told.
He reported back that they were not planning to run the story: "I didn't say that there's no truth in the allegations, I didn't say that Jimmy Savile was whiter than white.
"What I said was I don't believe the newspapers are going to print anything."
Editor's response
Meanwhile, the BBC has addressed newspaper reports that its Newsnight programme was ordered to drop an investigation into Savile's alleged sexual abuse.
Writing in a BBC Editor's Blog, Newsnight editor Peter Rippon said: "It has been suggested I was ordered to do it by my bosses as part of a BBC cover-up. It has also been suggested that we deliberately withheld information from the police.
"Both these allegations are totally untrue and, despite consistent strong denials, keep getting repeated."
Rippon went on to say Newsnight had investigated a claim by a key witness that the Crown Prosecution Service had dropped an investigation into sex abuse claims on account of Sir Jimmy Savile's age.
He wrote: "The CPS told us: 'The CPS reviewing lawyer advised the police that no further action should be taken due to lack of evidence.'
"The additional guidance noted stated. 'As this is the case, it would not be correct to say that his age and frailty was the reason for no further action being taken.'
"I took the decision not to publish."
He said some of his team "disagreed strongly" with the decision but that others "agreed equally strongly".
"However, those who disagreed accepted my decision. There were no rows of any kind as has been reported."