Looking back at the birth of The Beatles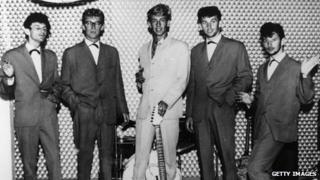 Iris Caldwell was the teenage sweetheart of George Harrison before becoming Paul McCartney's girlfriend. She was also the sister of Rory Storm, whose band Rory Storm and the Hurricanes included Ringo Starr before he joined The Beatles.
Many local bands would gather at their house, dubbed Stormsville, after clubs like The Cavern had closed.
"I met George at the ice rink," Iris says. "Every night he would come round to our house after he'd finished school. George spent an awful lot of time there.
"He used to play the guitar and he wanted to get into Rory's band. He was doing skiffle but Rory said 'I'm sorry mate, you're a bit too young'. We were boyfriend and girlfriend for a long, long time, but it was a totally different concept to boyfriend and girlfriend nowadays.
"Everyone used to come to Stormsville. My mother was the centre of it all, with my brother. People would all be jamming away and playing songs and arguing and laughing. We'd play silly games that my mother would organise. Cilla Black was absolutely hopeless at all of them.
"We were sitting around eating cheese barm cakes and my dad would be saying 'I've got to get up for work, would you shut up!'
"Rory had a skiffle cellar called The Morgue and we used to have the Beatles on there. I think they were called Long John and the Silver Beetles then. George wasn't in them then - he used to be on the cloakroom with me. Possibly watching them got him hungry.
"It was some time after that that Paul and I started going out. Once it started to break for them, [manager Brian] Epstein didn't want me going to any of the gigs. I don't blame him for that - it was correct at the time. You put other girls off if you go 'That's my boyfriend up there'.
"Every Tuesday, Paul and I used to go to the pictures. One night, John, Paul and I went out for something to eat to a little cafe. We had nearly finished the main course and they both winked at each other and then they started to have this terrible row across the table. I'm thinking, what's going on? They were shouting at each other until we all got thrown out so we didn't have to pay.
"Paul was always around our house. He adored my mum and my mum adored him. His mum was dead and I think one of the highlights of going out with me was seeing my mum.
"He'd come in from The Cavern and be all hot and sweaty and sit there, roll his trouser legs up and my mother would comb his legs for him. He carried on going to see my mum long after they were famous and long after I'd got married.
"The story goes that he wrote I Saw Her Standing There about me but I don't think they wrote any songs about me. He did say to me, 'I can't write a song about you, Iris, because the only thing that rhymes with Iris is virus'.
"When they did Granada TV's Scene at 6.30, as soon as they'd finished it, every single time, George would phone up my mum and say, 'What was that like?'
"And she'd say 'Oh, it was all right but none of you have got any personality. If you don't smile you're not going to get anywhere'. So the next time he said 'I smiled this time, was it all right?' She said 'It was better but you still need to smile more'. She was giving them honest advice.
"If I had a row with Paul, George would be phoning me up to see if he could take me out. But I don't think there was any rivalry over me. It was all good-hearted because things were so different then. It was never serious. It would be great to sell a kiss and tell but all I did was kiss and there's nothing else to tell! It was all innocent, unfortunately.
"It was a wonderful time but we didn't know The Beatles were going to become this great big thing.
"My mum once said to him, 'Paul, has all this money and fame changed you?' And he said 'No, I can only wear one shirt at a time, I can only eat one meal at a time, but I will say that people have changed towards me.'"