Bulgarian writer wins BBC Short Story Award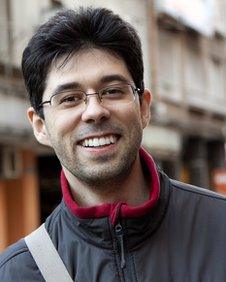 Bulgarian author Miroslav Penkov has won the BBC International Short Story Award, for his entry East of the West.
The winner was announced at a ceremony in London, broadcast live on Radio 4 arts show Front Row.
Penkov takes the £15,000 prize, while the runner-up, South African writer Henrietta Rose-Innes, wins £2,500 for her story Sanctuary.
The BBC competition was opened out this year to include international writers, in honour of the London 2012 Games.
The shortlist included stories from Deborah Levy, also shortlisted for this year's Man Booker prize; former winner Julian Gough; and Krys Lee, who was born in Seoul, South Korea, but brought up in the US.
The judges said they were "unanimous" in their selection of Penkov's story, which is set during and after the Cold War in Bulgaria.
According to organisers, East of the West "explores the difficulties of love, relationships and identity in a region ridden with conflict".
"I wanted to write a story about those Bulgarians who... were severed from our country, and who inevitably will lose, if they haven't already, their sense of being Bulgarian," said Penkov.
"At the same time, I wanted to write a story about myself, abroad in America and in many ways alone, with a huge body of water between me and the people I love."
Broadcaster Clive Anderson chaired this year's judging panel, which featured Di Speirs, editor of readings for BBC Radio, and novelist Ross Raisin, a fan of the story's "understatedness".
Fellow judge, novelist and professor of creative writing Michele Roberts, said it "ambitiously and successfully united personal and political life".
Ten stories were selected for this year's shortlist, instead of the usual five, to help reflect the wide range of entries from around the globe.
Each story has been broadcast on Radio 4 over the past fortnight, read by such leading British actors as Rory Kinnear and Sherlock's Andrew Scott.
"This year the BBC Short Story Award has gone global," said Radio 4 controller Gwyneth Williams. "We have stories from Australia, America, the Balkans, Ireland, the UK and the land of my birth, South Africa."
Williams continued: "Storytelling lies at the heart of Radio 4 and I am proud to say that we broadcast more stories each year than anyone, anywhere in the world."
Penkov will appear at the Cheltenham Literature Festival on 7 October, alongside Michele Roberts and last year's winner DW Wilson.
The BBC National Short Story Award, launched in 2006, will return in 2013 and is open to writers resident in the UK.
Related Internet Links
The BBC is not responsible for the content of external sites.