Taylor Swift 'freaked out' by intrusive paparazzi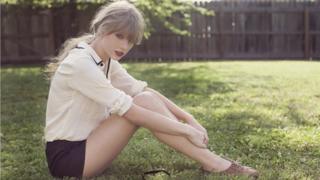 US recording artist Taylor Swift talks about her latest album, her new collaborators and how the constant presence of the paparazzi "freaks her out".
Where she goes, what she wears, whom she dates... whatever Taylor Swift says and does generates headlines across the world.
Speaking ahead of the release of Red, her fourth studio album, the 22-year-old admits it can be hard "when you have a giant magnifying glass on everything you do".
"It's a big priority for me to be happy, so there are a lot of things I have to ignore," the country star tells the BBC News website.
"If I Googled myself every day and read articles about myself that aren't true, it can make you really unsure not only of who you are but also how people perceive you to be."
So how exactly is Swift perceived? To some she is America's sweetheart: A bubbly blonde beauty with a natural talent for catchy confessionals and romantic balladry.
It is a talent that has enabled her to sell more than 22 million albums, win scores of awards and play sold-out concerts on four continents.
To many, however, Swift is better known as the singer whose acceptance speech at the 2009 MTV Awards was interrupted by Kanye West's pronouncement that her award for best female video should have gone to Beyonce instead.
They may know her just as well as a serial dater who is rarely out of the tabloids and who is prone to skewering her exes' foibles for chart-topping purposes.
Twilight actor Taylor Lautner, US musician John Mayer and Joe Jonas of the Jonas Brothers are among those to whom she has been linked.
Mayer recently declared himself to be the subject of her 2010 song Dear John, a claim Swift called "presumptuous" in a magazine interview.
In the one she gives to us, the singer admits that she has "been in a few relationships that weren't quite right".
Listening to her new material, though, it is clear that some relationships were less right than others.
'Self-indulgent takers'
"You never loved me, or her, or anyone, or anything," she tells the unnammed subject of I Knew You Were Trouble, while in All Too Well she refers to a former paramour who "broke [her] heart like a promise".
The message, reiterated often, is summed up by a refrain from opening number State of Grace. "Love is a ruthless game," Swift sings, "unless you play it good and right."
So who are these "self-indulgent takers" she refers to in another track, Stay Stay Stay? Politely but firmly, the performer declines to clarify.
Yet Taylor is more forthcoming on her relationship with the media, admitting that having photographers and TV crews shadowing her every move is "never going to be something that seems normal".
"There's definitely something really confusing about people following you and being allowed to," she tells the BBC over a transatlantic phone line.
"I don't think it's necessarily that paparazzi are taking pictures of me that freaks me out, as much as the fact they're hanging out with you all day.
"I asked to be a singer, I wanted this, so I can kind of understand it when they're waiting outside a radio station or on a red carpet.
"But it gets to be a bit irritating for me when they're waiting for me outside my house, or when I'm on vacation and they're there too."
Such is life for a young woman named by Time magazine as one of the world's 100 most influential people and who recently set a new record for the most downloads of a song by a female artist.
"I'm kind of on cloud nine about it," she says of the latter benchmark, achieved by the jauntily upbeat track We Are Never Ever Getting Back Together.
"That was an amazing day when we got the news. To be on my fourth album and to have our most successful single so far is really exciting."
'Really emotional'
Red marks a departure of sorts, in that it sees Swift collaborating with a number of producers and fellow performers for the first time.
Tracks on the album include Everything Has Changed, a duet with British singer-songwriter Ed Sheeran, and The Last Time, a "really emotional" song she performs with Gary Lightbody of Snow Patrol.
"This is the last time I'm asking you why / You broke my heart in the blink of an eye," runs the refrain.
"It's an honour to have collaborations with Ed and Gary on the record," says Swift. "It's really fun to feel like you're putting forth a team effort.
"I felt like I had two options putting out my fourth album. I could do it exactly the same way I've always done them, or I can challenge myself and step out of my comfort zone.
"There's a lot of pressure going into the studio with new people because of the success we've been lucky enough to have," she goes on.
"I always want to make sure that I come in prepared, on time, and that I show up with a bunch of different ideas."
The latter seems representative of an artist keen to present herself as level-headed, well-mannered and appreciative of her enviable position.
"I really do spend a great deal of energy trying to do the right thing," she concludes. "That's just who I am.
"I think about what I'd think of my decisions when I'm 80 looking back, and it helps me make sound, responsible choices."
Red is released by Big Machine Label Group and Mercury Records on 22 October.