Homeland US return is ratings hit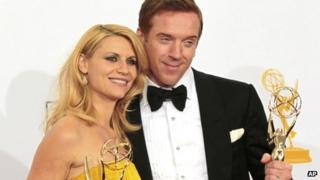 The US return of hit drama series Homeland was watched by 1.7 million, a 60 per cent rise on the audience for last year's first episode.
It follows the show's success at last week's Emmy awards, where it won four prizes including the coveted accolade for best drama series.
Homeland stars Claire Danes and Damian Lewis were also honoured, along with the show's writers.
The counterterrorism thriller returns to Channel 4 on 7 October.
Broadcast on Showtime in the US, Homeland delivered the cable channel's most-watched second-season premiere.
Yet the show's ratings were eclipsed by the return of Showtime's serial killer drama Dexter, seen by 2.4 million on the channel's most watched Sunday night ever.
Homeland's UK ratings have proved much higher, with February's premiere on Channel 4 watched by an average of 3.1 million people.
That figure rose to 4 million for the season one finale, which the UK station broadcast in May.
US reviews of Homeland's return have been positive, with TV.com writing that the season two premiere "didn't disappoint".
The Huffington Post agreed. "Judging from tonight's Season 2 premiere, we could have saved ourselves the trouble of worrying about whether the show would find a way to generate tension," its critic wrote.
The show's "real genius" was discussed on Wired.com, which wrote: "This politically charged soap opera for our times employs two of primetime's most mesmerising headcases to bring its big-picture dilemmas to riveting life."
The Los Angeles Times called the opener "deft and elegant" and said the show did ambiguity "extremely well".
It wrote: "Given the extravagances of the plot and the characters, that it feels plausibly seated in the real world is a testament to everyone involved in its production."
British actor Lewis has said he drew inspiration for his character - a US marine freed after eight years as an al Queda captive - from Brian Keenan's 1991 book An Evil Cradling.
Keenan spent more than four years as a hostage in Beirut, sharing a cell with the British journalist John McCarthy.
Ahead of Homeland's return to UK screens, McCarthy has now voiced concerns over the drama's "really horrible violence".
"I do fear we're not really appreciating the absolute horror of what someone's going through there," he told the Radio Times, describing the conversion of Lewis's character into a clandestine al Queda operative as "almost like titillation".
"Anybody who has been severely beaten wouldn't see that as entertainment," he is quoted as saying.