Jorie Graham wins Forward Prize for Poetry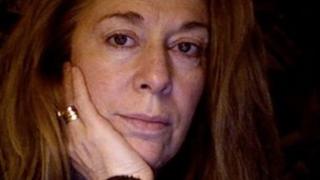 American poet Jorie Graham has won the £10,000 Forward Prize for Poetry for her collection P L A C E.
She is the first female recipient of the prize since Kathleen Jamie in 2004, and the first American woman to receive the honour.
Sam Riviere's 81 Austerities won the prize for best debut collection.
And Denise Riley was awarded the prize for best single poem for A Part Song, a meditation on the loss of her son in 2008.
The winners were announced at a ceremony in Somerset House, London on Monday night.
The judges described Graham's P L A C E (Carcanet), her 12th collection, as "startling, powerful, never predictable".
Leonie Rushforth, chair of the judges, said: "It is a challenging collection of unusual force and originality, forging connections between inner experience and a world in crisis."
Graham previously won the Pulitzer Prize for he collection The Dream of the Unified Field in 1996. Her poems have been translated into numerous languages, including Albanian, Chinese and Polish.
Born in New York in 1950, Graham grew up in France and Italy and was educated at the Sorbonne, New York University and the University of Iowa. She now divides her time between western France and Cambridge, Massachusetts, where she teaches poetry at Harvard University.
The judges said Sam Riviere's 81 Austerities (Faber & Faber) addressed the everyday experience of life in the digital world with "sophistication, wryness and self-awareness".
Rushforth said: "81 Austerities began life as a blog and has retained that exhilarating immediacy as a collection. It takes on the hollowed-out languages of commerce and digital media and performs a kind of ruthless forensics on them."
A Part Song, Denise Riley's first published poem in five years, appeared in the London Review of Books in February. It won the £1,000 prize for best single poem, presented in memory of US poet Michael Donaghy.
"A Part Song struck us all powerfully. It is a really searing poem, wrestling a protean grief into poetic form," said Rushforth.
She was joined on the judging panel by fellow poets Ian McMillan and Alice Oswald, along with literary critic Emma Hogan and Megan Walsh from the Times Saturday Review.
The Forward Prizes were founded in 1992 and reward both established and up-and-coming poets.
Previous winners of the best collection category include Seamus Heaney, Carol Ann Duffy and Ted Hughes.
Last year's winner was John Burnside for his collection Black Cat Bone.