Family Guy creator Seth MacFarlane to host Oscars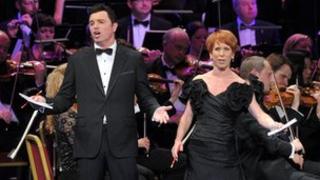 Family Guy creator Seth MacFarlane has been announced as the host of next year's Oscars ceremony.
The star is known for his off-beat humour and love of Broadway tunes, qualities which would make him suited to the traditional opening number.
MacFarlane, 38, said it was a "an overwhelming privilege" to be invited to front the ceremony.
Last year, Billy Crystal made his ninth appearance as host after comic actor Eddie Murphy pulled out.
"We are thrilled to have Seth MacFarlane host the Oscars," said producers Craig Zadan and Neil Meron in a statement.
"His performing skills blend perfectly with our ideas for making the show entertaining and fresh. He will be the consummate host."
Shortly after the Academy of Motion Picture Arts and Sciences made their announcement, MacFarlane posted a self-deprecating video on YouTube, in which his father appeared underwhelmed by the news.
But comedian Ricky Gervais, who hosted the Golden Globes in 2011 and 2012, was quick to offer his support.
"Congratulations on The Oscars," he wrote on Twitter.
"Great choice on their part. Don't hold back. Let me know if you need any Scientology gags."
Cult show
Born in Connecticut, MacFarlane started his showbusiness career as an animator at Hanna Barbera, working on shows including Johnny Bravo and Dexter's Laboratory.
In 1997, Fox TV offered him $40,000 (£24,776) to make a prototype episode of Family Guy - a profane, pop-culture referencing sitcom about a blue-collar family in Quahog, Rhode Island.
Commissioned for a series, it debuted after the Super Bowl in January 1999, with 22 million viewers.
It achieved instant notoriety, as well as fame for MacFarlane - who provided the voices of slow-witted father Peter Griffin and his megalomaniacal toddler, Stewie.
But over the next three years, audiences dropped off and the series was cancelled in 2002.
However, the show built up a cult audience on DVD - the final series sold more than a million copies in the US alone - and Fox eventually relented and ordered a fourth season in 2005.
Family Guy is still in production on its 11th season, with spin-off shows American Dad! and The Cleveland Show expanding MacFarlane's empire.
This year, he wrote and directed his first feature film, Ted, about a child's toy that comes to life. The movie, starring Mark Wahlberg and Family Guy actress Mila Kunis, has made more than $420m (£260m) worldwide.
He also released Music Is Better Than Words, an album of show tunes from the 1940s and '50s, and performed at the BBC Proms in London.
However, his recent experience with awards shows is not entirely mishap-free.
At this year's Emmys, he walked on stage to present the award for best reality show host, but TV viewers could not hear his voice.
Moments later, he exclaimed: "Oh, the mic's over there!"
After finding his mark, the star said: "This is what happens when you don't come to rehearsal".
The 85th Academy Awards will be held in Hollywood's Dolby Theatre on Sunday, 24 February, 2013.