National Theatre reports record annual takings of £80m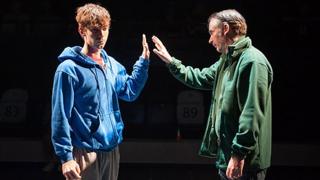 The National Theatre has reported record yearly takings of £80m, more than double those of 10 years ago and nearly £10m more than last year.
Director Sir Nicholas Hytner praised the figures but added that cuts to funding were "neglecting the arts".
One Man, Two Guvnors, starring James Corden, was the most successful National Theatre Live play to date, seen by 54,000 people in cinemas.
War Horse is still selling out and has been seen by 2.4m people worldwide.
Sir Nicholas described recent government arts cuts as "a kind of madness, a kind of mania" given the "amount of joy spread by the Cultural Olympiad" and London Festival 2012 - a series of national arts events which ran alongside the Olympics.
"You would hope government policy would be to find ways of capitalising on that for the arts and sport," he said at the launch of the theatre's annual report in London.
"There is visible evidence that investment in cultural and sport events brings in its wake confidence and the desire to spend - that case has been made in a spectacular fashion this summer."
He added that it was "impossible to say the minuscule savings made by arts cuts are worth it" .
Regional theatres face a "clear and present danger" from funding cuts, he said.
He was also keen to stress that this year's financial figures dated only to 31 March and did not cover the period during the Olympics.
He said "this summer was kind of spectacular" and that the National Theatre had played to "100% audiences right through the Olympics".
The "only dip" in box office during the Games was for One Man, Two Guvnors at London's Haymarket Theatre Royal in the first week of the Olympics and figures had gone up again immediately afterwards.
The director said he had been "disconcerted" by "people saying it would be doom or disaster" for London theatres during the Olympics" and that it had been a "really great" year.
The theatre's successes also include a stage adaptation of Mark Haddon's book The Curious Incident of the Dog in the Night-Time, which is currently playing to positive reviews. Hytner said it could had "potential for longer life".
But he said current box office success only meant the theatre would be "OK short-term" and that it would be "a bad idea to have it that long-term we should earn what we're currently earning from commercial transfers".
One Man, Two Guvnors is currently playing in Broadway and its lead actor, James Corden, won a best actor Tony award in June.
War Horse has won five Tony awards and is also running in Toronto, Canada and is on a north American tour. New productions will open in Australia and Berlin in the coming year, while in autumn 2013 it will go on a 10-month tour to eight UK cities and Dublin.
It was also made into a film by Steven Spielberg.
Sir Nicholas said: "It is essential that our funding level is restored to what it was before the cuts."
The Department for Culture, Media and Sport told the BBC: "Protecting arts funding while cutting public spending in other areas is simply not an option, although the reductions we have made are very modest.
"Over the life of this Parliament, the government is investing £2.3bn in the arts. We have also reformed the National Lottery, increasing the share to the arts, so the Arts Council's overall budget in 2015 will be reduced by less than 5% in real terms, compared to 2010."
It added that the London 2012 Festival was "fully supported by government and backed by a significant amount of public funding".
The theatre's report also stated that the development department raised £7.4m in annual income, its highest totals from individuals and corporate support.
And it added 4,000 young people from 300 schools and youth theatres took part in NT Learning's nationwide youth programme, Connections.