Pinewood Studios expand with new studio facility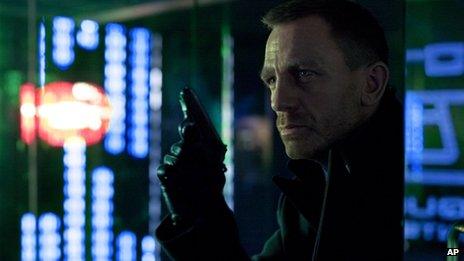 Pinewood Studios, home to the 007 films, has announced plans to build a new 45,000 sq ft studio, including a new sound stage.
The facilities were approved as part of the British film studio's continued expansion and investment programme.
Pinewood has also signed a deal with the Isle of Man Treasury to work together on more co-productions.
Shooting on Belle, which stars Miranda Richardson and Emily Watson, started on the island last week.
The period drama is the third film to receive investment from Pinewood Studios as part of a project to help fund and support smaller British independent films.
It follows A Fantastic Fear of Everything starring Simon Pegg and Last Passenger starring Dougray Scott and Kara Tointon.
Belle, which also stars Tom Wilkinson, Matthew Goode and Gugu Mbatha Raw, will spend three weeks shooting on the Isle of Man before moving to Oxford, London and Pinewood in Buckinghamshire to complete production.
It is not known when work will start on the new facilities at Pinewood, where some of the UK's biggest films have been shot including Harry Potter and the Deathly Hallows and forthcoming Bond film Skyfall.
It has recently completed an upgrade of television facilities, including the 30,000 sq ft Richard Attenborough Stage which opened in April, in a bid to play a bigger role in the UK's independent television production.
Pinewood Shepperton Studios will also submit new plans for further expansion this autumn, after the government rejected a £200m project, which included building more than 1,000 homes, in January.