'Stolen' Renoir removed from sale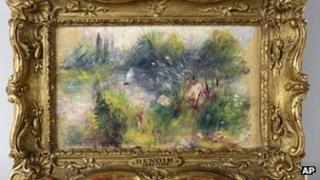 A Renoir painting, bought at a flea market in West Virginia, has been removed from auction amid concerns it was stolen from a Baltimore museum.
The tiny Paysage Bords de Seine was expected to go on sale on 29 September at the Potomack Company auction house.
However, newly discovered records have revealed it was loaned to the Baltimore Museum of Art in 1937, from where it was listed as stolen in 1951.
The auction house has postponed the sale "to ensure fairness and finality".
Earlier research by the Potomack Company indicated that the last record of the painting's ownership was understood to be in Paris in 1926, when it was bought by Herbert L May, then-husband of Saidie May.
But earlier this week, a Washington Post reporter, Ian Shapira, discovered it was loaned to the Baltimore Museum of Art by Ms May in 1937.
A further internal investigation of the Museum's art collection files found a loan record indicating that the Renoir painting was stolen in 1951, shortly after May's death. There was no evidence of a police report.
"Obviously, we take our responsibility for our collections and the things entrusted to us very seriously," the museum's director, Doreen Bolger told Mr Shapira. "We have to do more research and get to the bottom of the real story, and we're still in the midst of that process.
Ownership claims
"We want the painting back," added Ms Bolger. "That painting was associated with her, and she's one of the most important donors in the museum. It was her decision that it would come to us."
May, who has a wing named after her at the Baltimore museum, left her entire collection to the museum.
The Renoir surfaced in a box of bric-a-brac at a local flea market two years ago, in 2010. The owner paid just $7 (£4.30) for the contents - but did not know she had acquired a Renoir until she took it to be examined at the auction house, at the recommendation of her mother, this July.
With questions over its ownership and a federal investigation underway, the auction house made the decision to withdraw the painting from sale.
"Our objective in conducting a sale is always to ensure fairness and finality both for the consignor and for the buying public," said Elizabeth Wainstein, owner of The Potomack Company.
The painting, which measures 14 by 23 centimetres, was apparently painted for Renoir's mistress on a linen napkin at a restaurant on the banks of the River Seine. It is estimated to be worth $75,000 to $100,000 (£62,000).
"We would not sell the painting until we know the proper owner," she told The Washington Post. "We just need to the know the truth."